Governor announces appointments, staff changes
12/26/2016, 7:46 a.m.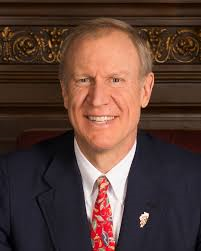 Governor Bruce Rauner announced today Illinois Department of Insurance Director Anne Melissa Dowling will return to the private sector in January.

"Director Dowling has worked diligently to transform the Department of Insurance to better protect the rights of Illinois' residents, while championing a growth environment for businesses," Governor Rauner said. "Director Dowling's commitment to protecting taxpayers showed throughout her tenure. On behalf of the people of Illinois, I thank Director Dowling for her service."
"During the past 18 months, we have debated and defined some of the most pressing issues confronting the industry like the use of automated vehicles, Blockchain, cyber security and the coverage of mental health care," Director Dowling said. "I'm proud to have served as Director of Insurance under Governor Rauner and leading the Department in reclaiming Illinois' preeminence on the national policy stage."
Governor Rauner will appoint Jennifer Hammer the Director of the Department of Insurance. Hammer has extensive experience in healthcare law and policy.
Currently, Hammer is the Deputy Chief of Staff for Policy in the Office of the Governor. She oversees all policy-making decisions in the Governor's Office and state agencies. She analyzes and advises the governor on proposed policy, legislation, and rules and regulations. Previously, she was the Policy Adviser for Healthcare and Human Services and Special Counsel to the Governor. In this role, she coordinated all healthcare-related agencies, including the Department of Insurance. She oversaw migration of Get Covered Illinois as an independent commission into the Department of Insurance.

Previously, Hammer worked at the Illinois Chamber of Commerce as the Executive Director of the Healthcare Council and Vice President and Legal Counsel of Government Affairs. She also worked for Giffin, Winning, Cohen & Bodewes, P.C. as an attorney where she practiced insurance defense law, healthcare law, business law, and advised clients on legislation like the Affordable Care Act.
Hammer earned her bachelor's degree from Arizona State University and her law degree from Southern Illinois University. She lives in Springfield.
Staff Announcements
The governor today also made a number of staff announcements. Tim Nuding, Director of the Governor's Office of Management and Budget (GOMB) will be transitioning out of state government after a 27 year career in public service to pursue other opportunities. Current GOMB Chief of Staff Scott Harry has been named the new Director of GOMB.
Harry has served as GOMB's Chief of Staff since January 2015. He has 27-years of public service experience working for the State of Illinois with responsibilities in budgeting, financial management and grant accountability.



For 20 of those years, Harry worked at the Illinois Department of Commerce and Economic Opportunity (DCEO). He became the agency's first Chief Accountability Officer in 2008 and led the implementation of a progressive and standardized approach to grants management and performance monitoring. Harry started at DCEO in 1994 as the agency's Budget Director and was later promoted to Chief Financial Officer where he was responsible for managing the agency's finances for a period of 10 years.
Harry received his MBA from the University of Illinois-Springfield and his bachelor's degree from Illinois State University. He lives in Springfield.