H.S. Boy's Basketball: Bolingbrook defeats Westinghouse in Holiday Tournament quarterfinal
Alex Ortiz | 12/28/2016, 9:47 p.m.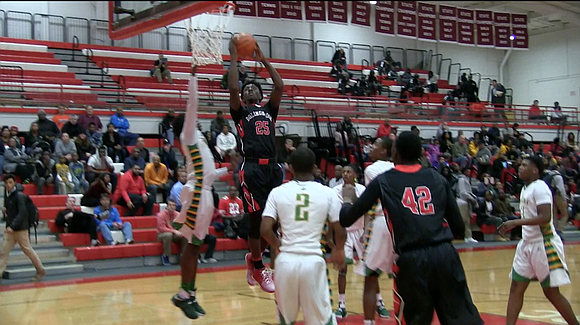 HINSDALE - The Bolingbrook boy's basketball team (8-0) had not really been tested to this point of the 2016-17 season, but the Hinsdale Central Holiday Classic would certainly provide such a test. Following a 78-45 opening round win against Glenbrook North, the Raiders would face off against Westinghouse (5-6) of Chicago, and would prevail 53-46.
"We haven't really been tested like that so far this year," Paul Gammicchia, Bolingbrook assistant coach, said. "And I think the guys responded well."
It was a real back-and-forth contest from the start. Bolingbrook trailed by one point after the first quarter and then led by four at halftime. Senior forward Nana Akenten contributed 18 points and five rebounds while center Malik Binns played a hard game in the paint coming down with eight points and a game best 14 rebounds.
Early on, the usually stingy Bolingbrook defense allowed backdoor opportunities to the Warriors, but then the Raider switched to a zone and slowed down Westinghouse.
In the second half, the game continued to be close as no team led by more than three points for more than a couple of minutes. But the Raiders were able to put it away with some clutch shooting by Akenten, who scored 11 in the fourth quarter, and improved defense.
Up next, Bolingbrook will play in the semifinal matchup against Marian Catholic on Thursday at 7 p.m. at Hinsdale Central.