Muslim Group Launches Billboards Campaign to Build Alliances, Promote Harmony and Unity
12/28/2016, 12:27 p.m.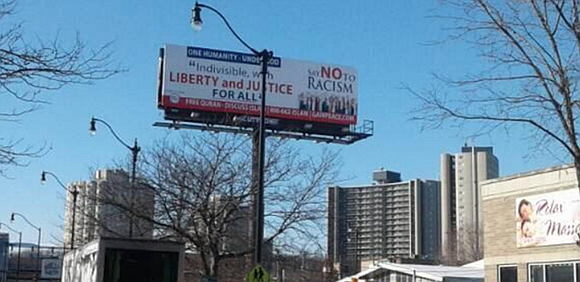 (Chicago, IL, 12/23/2016) - On Dec 22, 2016, GainPeace, a Muslim group based in Chicago, launched a six weeks campaign designed to build alliances in the society and condemn all bigotry and racism. The campaign is in response to the increasing rhetoric by some of the individuals in National Leadership, the recent spike in hate crimes; this campaign raises awareness regarding the constitutional rights of all, especially Muslim Americans and minorities.
The launch of 'Liberty and Justice for All' campaign, using the billboards, Mosque Open Houses, and Social Media, demonstrate that Muslim Americans are establishing alliances with fellow Americans and standing up against discrimination, hate attacks, and racism against any American. The group also desires people of other faiths to learn the peaceful teachings of Islam, contrary to what's portrayed by some media outlets.
"There had been some recent attacks targeting Muslims in Chicago and across the nation. Islamophobia at time stems from the lack of education about Islam. Thus, we want to offer our fellow Americans an opportunity to learn the true teachings of Islam." Dr. Sabeel Ahmed, Executive Director, GainPeace Project.
Press Conference
WHAT: GainPeace Campaign - 'Liberty and Justice for All' billboards launched
WHEN: Thursday, December 29, 10.30 a.m.
WHERE: 351 Veterans Parkway, Bolingbrook, IL 60490 – Muslim Association of Bolingbrook
"Previous educational campaigns of GainPeace have generated numerous calls of support and building of alliances with interfaith groups, minority groups, and neighbors.' Mr. Anwaar Khan, Board of Director at GainPeace and president of the Muslim Association of Bolingbrook (MAB). MAB is partnering with GainPeace for the launch of the billboard outreach campaign.
Dr. Sabeel also noted that there had been some recent biased incidents targeting Muslims in Chicago and across the nation.
Huffington Post: Trump's Anti-Muslim Rhetoric is Fueling More Islamophobic Incidents http://www.huffingtonpost.com/entry/donald-trump-islamophobia_us_57687474e4b015db1bca5fb4
Christian Today: Islamophobia on Rise in the US, Report Says
http://www.christiantoday.com/article/islamophobia.on.the.rise.in.us.says.report/88900.htm
Washington Post: Anti-Muslim hate crimes are still five times more common today than before 9/11 http://www.washingtonpost.com/news/wonkblog/wp/2015/02/11/anti-muslim-hate-crimes-are-still-five-times-more-common-today-than-before-911/
NBC News: Hate Attacks on Muslims in the US Spike After Recent Acts of Terrorism
http://www.nbcnews.com/news/us-news/hate-attacks-muslims-u-s-spike-after-recent-acts-terrorism-n482456
Upon request, GainPeace can arrange its staff to be available for interviews on the premises or in the studios of TV channels and radio stations.