Pizza Lasagna
2/2/2016, 9:46 p.m.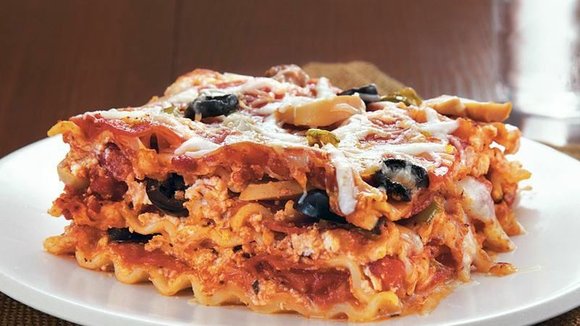 SERVINGS: 8
Ingredients
9 uncooked lasagna noodles
1 can (15 oz) pizza sauce
1 can (14.5 oz) diced tomatoes with green pepper and onion, undrained
1 container (15 oz) ricotta cheese
1 teaspoon Italian seasoning
2 cups shredded mozzarella cheese (8 oz)
2 packages (3.5 oz each) sliced pepperoni
1 jar (4.5 oz) sliced mushrooms, drained
1 can (21/4 oz) sliced ripe olives, drained
1/2 cup chopped green bell pepper (1/2 medium)
2 tablespoons grated Parmesan cheese
Directions
Heat oven to 350°F. Spray 12x8-inch (2-quart) glass baking dish with cooking spray. Cook and drain noodles as directed on package. In 2-quart saucepan, mix pizza sauce and tomatoes. Cook over medium heat until thoroughly heated. In medium bowl, mix Italian seasoning.
Spread 1/4 cup pizza sauce mixture in bottom of baking dish. Arrange 3 cooked noodles over sauce. Spread half of ricotta mixture over noodles. Top with 1/2 cup of the mozzarella cheese, 1 cup sauce mixture, one-third each of the pepperoni, mushrooms, olives and bell pepper. Repeat layers once. Top with remaining noodles, sauce mixture, mozzarella, pepperoni, mushrooms, olives and bell pepper. Sprinkle Parmesan over top. Bake uncovered 30 to 35 minutes or until bubbly. Let stand 15 minutes before serving.