Microbreweries brewing up interest around the county
Brock A. Stein | 2/3/2016, 7:34 p.m. | Updated on 2/4/2016, 10:11 a.m.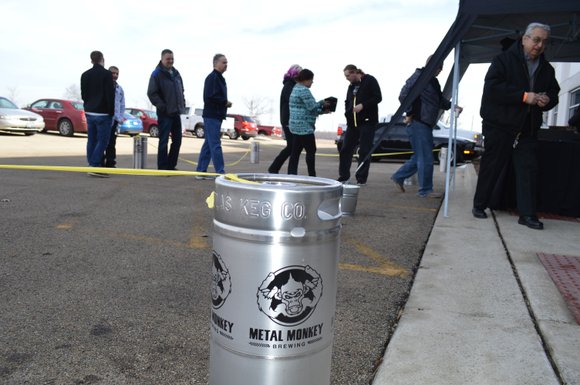 Metal Monkey Brewing co-owner Dan Camp had been home-brewing beer for about 10 years before he started seriously considering opening his own microbrewery.
The Romeoville resident was drawn to making his own small batches of beer in his home in part by his love of beer, the challenge and the social aspect of it. He said he got together with friends on Friday and Saturday nights to try out recipes and talk about perfecting their approach.
"It kind of became a weekly thing," he said, "We'd get together and brew in my kitchen."
While the response to some brews from family and friends was positive, it wasn't until he and his business partners were starting to seriously consider starting their own small Brew Pub that they sought the opinion of an impartial third party.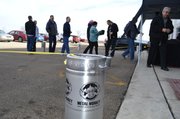 The friends joined the Joliet Brewers Guild where they brought some of their hibiscus infused batches of beers for the wider audience of aficionados to taste.
Camp recalled those humble beginnings as he along with his partners Brett Smit, Jason Janes, and Brandi Nassenstein were preparing to unveil their new microbrewery, Metal Monkey Brewing to the general public on Saturday in Romeoville. The name he said came from their love of heavy metal music and monkeys.
The new brewery is in a 3,100 square foot space that includes a beer tasting room and will produce about 500 barrels of beer annually. Patrons will be able to purchase beer at the tasting room including a 32oz "howler" size.
The Metal Monkey partners are part of a swell of beer brewers around the county who frequent brew pubs and also cook up their own batches at home.
Small batch brewing is catching on as a grass roots business trend said Plainfield beer aficionado Jon Proulx who sits on the board that organizes the Midwest Brewers Fest each year.
In part, the movement and its popularity ties in to patrons seeking more exotic flavors beyond what's available in grocery stores.
Gone are the days when a six pack of Miller Light or Pabst Blue Ribbon will quench the thirst of many beer aficionados says Proulx who also commented that many who frequent the brewery establishments are now looking for "greater diversity and variety" in what they drink.
"Customers are excited to try new flavors, new styles, new tastes," said Proulx who describes himself as an "inexperienced homebrewer" himself.
"People are exploring beer styles and beer flavors and different breweries in the same manner that is common of wine aficionados," he said.
It's also driven by the social aspect of the scene as well with a culture of inclusiveness and community.
"It's very much drink local," said Proulx adding , "You can actually talk to the brewer, the guy who made the beer as well as see the equipment where it was made" right on the premises.
"There's a certain grass roots, or hands on satisfaction that you get in making that local connection as well as opposed to picking something off the shelf at Jewell that a huge international corporation has made," he said.