Young boxer follows in father's footsteps despite risk
Brock A. Stein | 2/3/2016, 8:04 p.m. | Updated on 2/4/2016, 10:13 a.m.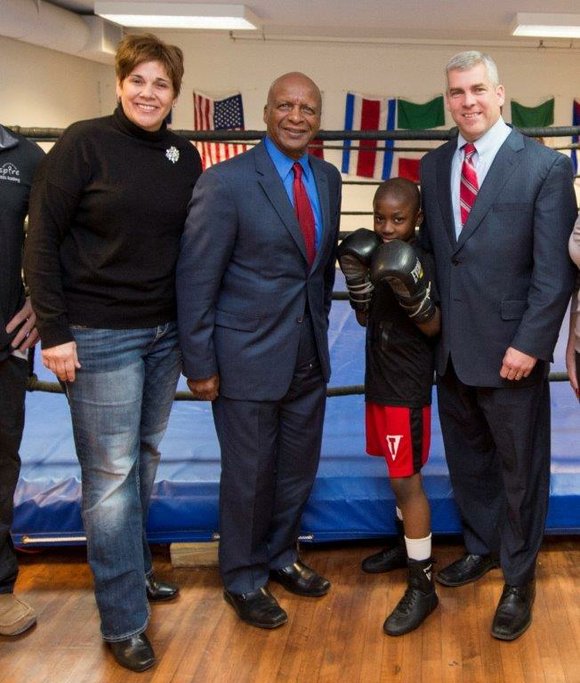 Joliet resident Joseph Awinongya is proud of his son Joseph Jr. like many fathers who whose sons' take an interest in the family business.
Awingoya's son, 8-year old Joseph Jr., is following in his father's footsteps, training as a boxer in advance of a match he will have on February 6 in Joliet at the Inwood Athletic Club, 3000 W Jefferson St. in Joliet.
"I'm so proud," said Awinongya a Ghana native who first came to the U.S. from Italy in 1999.
"He has a very big IQ for a boxer," said the senior Awinongya who notes that his son is on the honor roll at Farragut Elementary School in Joliet despite a workout routine which includes running, gymnastics, and dance training. "He loves school so much."
He also gets personal training from his father, a former professional boxer who was brought to the U.S. by shock-haired promoter Don King.
He notes with pride that his son has attracted the attention of a number of state and local officials including Joliet Mayor Bob O'Dekirk, State Sen. Jennifer Bertin-Tarrant, and Illinois Secretary of State have met with the Awinongya Jr.
"Jesse White came to visit him," said his dad proudly.
So far his son has had eight fights and has plans to go to the Olympics in 2024 said his father.
With that training and another 8 years of bouts ahead of his Olympic tryouts comes a risk of traumatic brain injury however. While the impact of concussions on young football players has taken a high profile in recent years, the risk associated with youth boxing has also been detailed in studies by the American Academy of Pediatrics.
A 2011 policy statement from the Academy warns of the risk to kids who take part in youth boxing citing a child's vulnerability "to concussions" more so "than an adult's brain."
"Further, a child's brain can take longer to heal, and resulting memory impairment can make learning more difficult," the paper notes. The policy statement further cites that "between 6.5% to 51.6% of injuries among amateur boxers are concussions" and recommends participation in sports such as "swimming, soccer and basketball" where there is less risk of head injury.
When asked about the risk of concussions associated with youth boxing and the risk of longer lasting traumatic brain injury Awinongya Sr. said that the benefits outweigh the risks as long as a child is trained properly. Far better for kids to take part in boxing he said than to sit around playing video games.
"I know how hard boxing is," said Awinongya Sr. noting that the sport instills both mental and physical discipline.
"It's a very good sport," he said, adding, "Football is more risky."
The key, he said, in minimizing the risk for a young boxer is to train them in the "science" of the sport, which includes knowing when to step back from an opponent. He also notes that kids wear safety equipment, which includes protective headgear and larger gloves than the adults use.
"Everything is a risk, getting up and going to your job is a risk."
His son also has the benefit of his father's coaching.
"I train my kid to not take punches from nobody," said Awinongya Sr.