State cannabis program has some unsure about its future
Brock A. Stein | 2/10/2016, 7:58 p.m. | Updated on 2/11/2016, 10:27 a.m.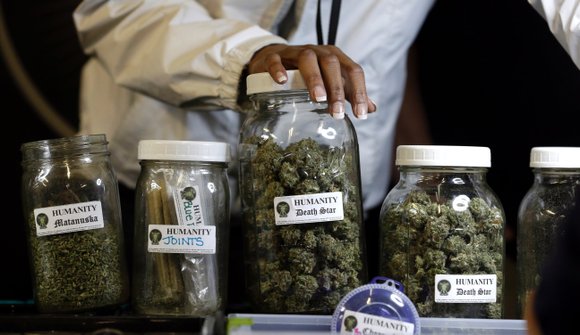 The Illinois Department of Public Health has rejected a call to add 8 new conditions to be treated with medical cannabis. The ruling follows a petition period that ran through the month of January where citizens were asked to submit additional conditions.
The state pilot program will continue with its current list of 39 conditions and diseases approved for use with the drug.
Romeoville resident Jared Taylor, 27, who suffers from chronic pain caused by Osteoarthritis said that his condition was one of the eight conditions that the state declined to add to the list which also included: post-traumatic stress disorder (PTSD), irritable bowel syndrome, chronic pain (due to trauma), chronic post-operative pain, chronic pain syndrome, intractable pain, and autism.
Taylor said that the state cited the need to monitor the relatively new program in its reason for declining to add the new conditions though he said that the high hurdle of implementation has since passed.
"Patients are out there buying their medicine," said Taylor, "It's not like people are not being served by this program."
"There's really no reason why these conditions were rejected," said Taylor.
The State law, which took effect in 2014, governs the cultivation and sale of medical marijuana and allows for 60 dispensaries and 22 cultivation centers — one for each state police district — to be located across the state.
The law, which expires in 2018, allows adults to obtain up to 2.5 ounces of marijuana every two weeks if they are using it to treat one of the 39 specified medical conditions.
The state issued its first round of 9 licenses to dispensaries in November last year with that number growing to include a total of 29.

Just over 29,000 people have started the application process with the state to receive a medical cannabis ID card which is required to purchase the drug. So far, only 4400 have qualified following a process which includes fingerprinting and a background check.
With the program expected to sunset in 2018, and with more dispensaries opening for business, Taylor doesn't see the current business model as sustainable for the long haul despite sales of $1.7 million since November.
"4400 [patients] is not enough to sustain the industry," said Taylor, "Some of these places may close shop in the next year."
He said advocates like himself will continue to put pressure on the Governor, legislators and on the director of the state pilot program.
He said some may even "have to take a legal" route by filing lawsuits against the state.
For Plainfield-based advocate Mary Ann Loncar her concern lies more with patients having continued safe access to medical cannabis something that won't happen if the law is allowed to sunset in 2018. She fears that the program—passed during Pat Quinn's tenure as governor—will be allowed to lapse now that Governor Bruce Rauner is heading the state.
"We begged the sponsors of the bill to take the sunset clause off," said Loncar noting the often shifting political winds that come with elections.