Bertino-Tarrant to hold satellite office hours in Joliet
2/16/2016, 2:11 p.m.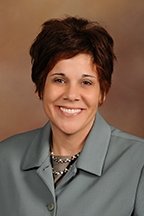 State Sen. Jennifer Bertino-Tarrant (D-Shorewood) will be holding satellite office hours in Joliet next week.
Joliet satellite office hours will be held from 9 to 10 a.m. Thursday, Feb. 25, at Joliet Public Library, Black Road Branch, 3395 Black Road.

"With my district office in Plainfield, I wanted to have office hours at a location that is more accessible to area residents," Bertino-Tarrant said.
Community members are welcome to stop by the Joliet Public Library to work with the senator's staff and receive assistance with numerous services.
Attendees can receive help with FOID card applications, food stamp issuance, health care, veteran or disability issues, Medicare paperwork, foreclosure prevention assistance and much more.
If you have additional questions regarding Joliet satellite office hours, please contact Samantha Marcum in Bertino-Tarrant's district office at (815) 254-4211.
Joliet Satellite Office Hours
Date: Thursday, Feb. 25
Time: 9 to 10 a.m.
Location: Joliet Public Library
Black Road Branch
3395 Black Road