Hospice volunteer training
2/16/2016, 8:23 a.m.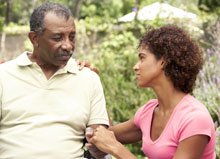 Joliet Area Community Hospice (JACH) is looking for volunteers to provide compassionate visits to patients and their families in their home, assisted living and long term care facilities in our service area (Will, Grundy, Kendall and parts of Cook, DuPage, and Kankakee counties). Patient Care volunteers provide respite to hospice families for periods of 2-3 hours, allowing the caregiver a much needed break to run errands or just have some time to them self.
Besides companionship support to patients, Joliet Area Community Hospice volunteers greet visitors, provide clerical help, assist with keeping our grounds beautiful for visitors, and provide a myriad of other service opportunities. All volunteers need to complete JACH volunteer training before becoming an active volunteer; no medical experience is required. The next volunteer training will be held on April 2nd and April 9th. Please visit our Website www.joliethospice.org for more information and to complete an application. Or contact Jeri Smith, Director of Volunteers with any questions or concerns. Space is limited; registration deadline is March 21, 2016.