Joliet Township High School parents demand more diversity among staff
Brock A. Stein | 2/17/2016, 2:59 p.m. | Updated on 2/19/2016, 9:39 a.m.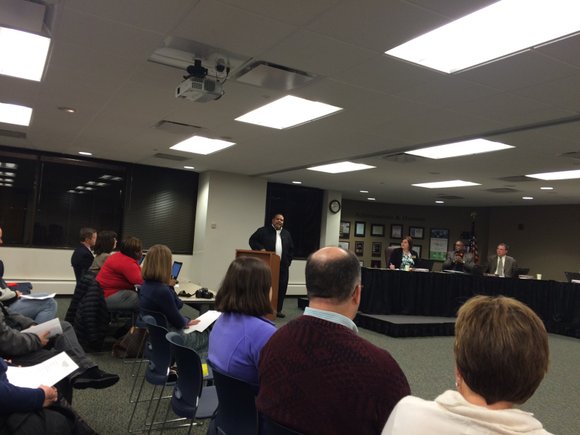 The impending retirement of a dean at Joliet Township High School's Central Campus has some parents, community members and at least one school board member asking for greater diversity in selecting her replacement.
School Board member R. Dale Evans, said that concerns over the lack of diversity in selecting a new dean was brought to his attention by members of the school district's support staff and administrators.
In a posting he shared on social media Monday, Evans encouraged community members to address the board at its Tuesday night meeting.
"Parents you need to pack the house and demand answers as to why the 2,958 students at Joliet Central will not have at least one African American dean," the statement read.
According to the districts website, of the 6,427 students attending District 204 26.9% are white, 24.3% are black, and 44.5% are Hispanic.
With the retirement of two deans at the end of the year, one of which is an African American female, Evans said that the two high schools would be left with only two minority deans.
That didn't sit well with many parents at Tuesday night's meeting with many saying that it was important for students to see diversity in leadership roles at the school.
That was a concern of Mike Clark, a Joliet West alum, who said that he could attest to "how important it is to have someone that looks like you" when kids and faculty interact.
"We need to see that same diversity in front of our students," said Clark. He said that an emphasis on diversity has to come from administrators and the school board.
"I think we should do a better job of making sure that they see those people on a day to day basis," said Clark.
That diversity can be equally important for other students as well said Amy Sanchez a community activist.
"It's equally important for Caucasian students" to see diversity among ranks of staff in administration of "all races, and all colors," she said.
Another Joliet West alum, Garland Mays, said that the students need school leaders who understand them.
"If you're not from our community you don't understand our community," said Mays who emphasized that candidates need to be qualified as well as diverse.
Pastor Craig Purchase of Mt. Zion Full Gospel Tabernacle was more forceful in his argument for more diversity.
"We need a black dean at both schools," he told the board. "Please don't push us and have use keep our children home until you listen to us."
"I'm sick and tired of people sitting behind desks and making decisions based on our children," he said, "We can no longer tolerate people who are no longer listening to our needs."
School Board President Jeff Pierson said that board members and members of the School District 204 administration would set up a time to address the audience's concerns.
"We certainly would be willing to meet with you at an agreeable date to discuss these issues," said Pierson.
In an email, Kristine Schlismann Director of Community Relations, said that the district employs 10 deans in the district, 5 each at Joliet West and Joliet Central. "The two deans that were recommended last night were due to individuals that will retire at the end of the school year," she said via an email statement.
It continued with, "JTHS hires the most qualified personnel in compliance with School Board policy. We care deeply about our students and community and will work directly with the individuals who expressed concerns last night."
brock@thetimesweekly.com or on Twitter @BrockAStein