Conway Barber Shop celebrates 50 years in business
Local businessman making History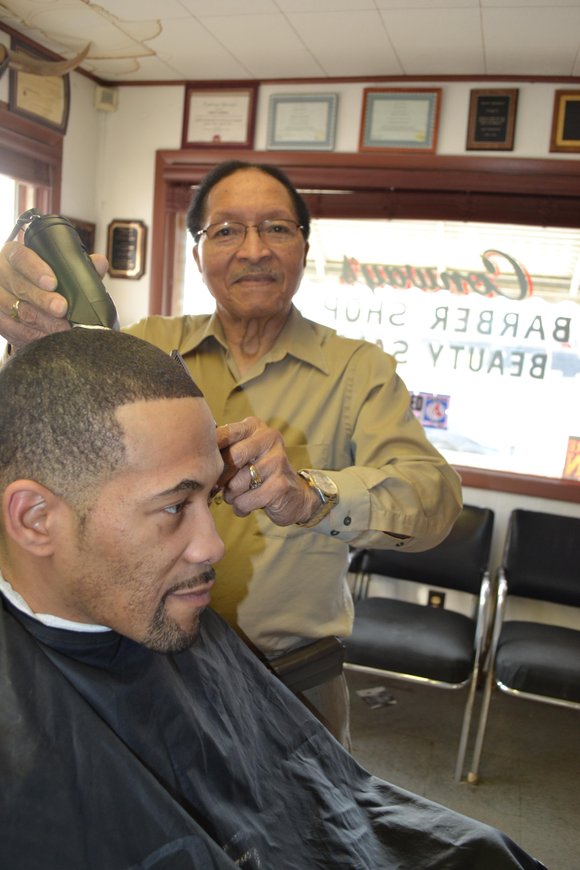 When 84-year old Mr. Percy Conway moved to Joliet to stay with relatives from his native Canton, Mississippi as a teenager, his father's words rang in his ears. "My father always told me that I could do anything I wanted to and that I would make something of myself. My father was also the type of person who never took excuses. He would never take "I can't" as a reason for not completing a task. I guess that's what gave me the drive and determination to do something for myself and open my own barber shop." That was more than 50 years ago, an he and his family are still making history as one of the oldest existing black-owned businesses in Joliet.
"I guess I got the idea to move north because, back then, during the depression, most people, be they black or white, didn't have much of anything. The opportunities, what few there were, just didn't seem to be there, especially for blacks. I grew up on my dad's farm, growing cotton and corn. It wasn't very productive, so my dad thought I could help the family better by looking for opportunities elsewhere. Whenever my relatives from up north would come to visit us, they seemed to be doing well, so I respected them. I certainly wanted to be like them, so, with my father's blessings, I moved north."
Conway worked various jobs, including work at a tool and die company. Then the so-called 'police action' in Korea broke out. "It was what they now call the 'forgotten war,'" Conway recalled, "I joined the Army, and from 1951 to 1953, I was a Tech Sergeant, heading a platoon that spent time on the 30th parallel that divided North and South Korea. I spent 13 months fighting the Chinese on the front lines before I was discharged in 1953."
Wartime also provided an opportunity for Conway to hone his barbering skills, which, he claimed, he'd nurtured since childhood. " Believe it or not, I wanted to be a barber ever since I was ten years old. Growing up, I had a couple of first cousins who cut hair, so I learned by watching them. I used to try to cut hair every chance I got. I started cutting hair on my dad's porch. We had no electricity, so I used hand clippers. I'd cut my playmate's hair and anybody else who was game enough to try me. My dad called himself cutting hair too, but he'd cut one strand and pull another. So his haircuts were a pretty painful experience to say the least."
On the way to the Korean War, Conway served on a battleship. "I, of course, had my clippers with me there too. I started cutting hair for the guys on ship. Word drifted to the officer's that I was a good barber, so I got invited to officer's quarters to cut hair for them too. Mind you, they already had a regular licensed barber who was white, but they liked the way I cut hair better. Things like that motivated me to want to pursue cutting hair when I got out of the military."
Returning to Joliet, he resumed his employment in manufacturing.
He was married in 1955 and started a family, eventually raising 4 children with his wife Armelia. "I bought a house a moved to Fairmont where I raised my family while working at a tool and die company. I worked at GAF tool and die and Ford Motor Company before working in the machine shop at Mastic Tile Corp. while my wife worked at the post office. All during that time, Conway says he harbored a dream of owning his own barbershop.
"At first, it was just a dream inside my head. Then I started drawing up plans for what the shop would look like. Finally, I started going to Weeden Barber College in Chicago on what was then Skid Row near Halsted and Madison. In those years, it took 1,872 hours of barbering before you could get a license to become a barber. Because I worked full time, I could only go to school on Saturdays and any other days off that I had. After taking the state board exam, you had to do three years of apprenticeship. It took me almost twice as long to do my apprenticeship because I had to hold down a full time job to support my family."
Mr. Conway found opportunities to practice his craft at the handful of black owned businesses that existed at the time. "In those days there was Theba Foster's Barber Shop and Sharp's, both on South Chicago Street, which at that time was the black business district. In those days, you didn't do anything past the viaduct on McDonald Street."
After his lengthy apprenticeship, Conway felt it was finally time to strike out on his own. "I had my eye on a corner lot that was available on State Street on what was then Route 4A, which was later changed to Highway 171. George Grohar was the owner of the grocery store. At first, he was reluctant to sell it to me, but he could see the sincerity in my face, so he finally decided to sell it to me, although at a very high price. In those days, lots went for no more than $300 dollars, but he made me pay $3400!"
The next step was getting financing to develop the site and build a shop. This was no easy task as the local banks were less than cooperative, especially to black customers. "Although I had A-1 credit and owned property and two vehicles, the banks wouldn't do business with me. Their excuse was that the business was located on unimproved property. That, coupled with the fact that most black businesses perished within five years due to poor management, sealed my fate in their eyes.
I was almost ready to give up until, one day, when I went in to pay my monthly insurance premium at the Strogin Insurance Company on Ruby Street, where I did business. The owner of the business often talked to me about my dream of owning a barbershop. He asked me to draw up a sketch of my business design. He said ' take this number down (that was to a guy he knew) and tell him what you want done and he'll help you to do it. I walked out of his office and called the guy. Because I knew a little bit about building and carpentry, I was able to work with him to clear the property and dig the basement and I went on from there. I got another carpenter to help me with the floor and another to do the roof, but the rest of it, about 80 percent, I did myself, working on my days off; board by board. Nail by nail! "
There were various hurdles along the way. The city health department attempted to stymie his progress because of the lack of sewer and water lines. Once those roadblocks were cleared, there was still the daunting task of building a business, literally from the ground up. "I had to work on building the shop during my spare time, because I was still holding a full time job. I worked weekends and days off and any other extra time I had. It took years and a lot of backbreaking work to build this shop."
One of Conway's toughest decisions was cutting ties with his full time job. "When I told my boss I wanted to resign and start my own business, he begged me to stay. He told me to take a leave of absence and think about it. I did, for a short time, and came back and told him that I had made my mind up. It was time to strike out on my own. I haven't regretted it since."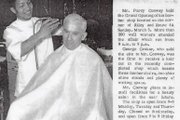 Conway's hard work and determination paid off. In 1966, Mr. Conway held his Opening Ceremony with Rev. James McNear, Pastor of Mount Mariah Baptist Church and George Grohar, the grocery store owner who reluctantly sold him the lot where he built his shop, who was his first customer.
"It was a great day," Conway recalled of that day, now 50 years ago. "I never doubted for a moment that it would happen. Again, my dad's words rang in my ears. "Never say ' I can't.' You have to make the effort."