Conway Barber Shop celebrates 50 years in business
Local businessman making History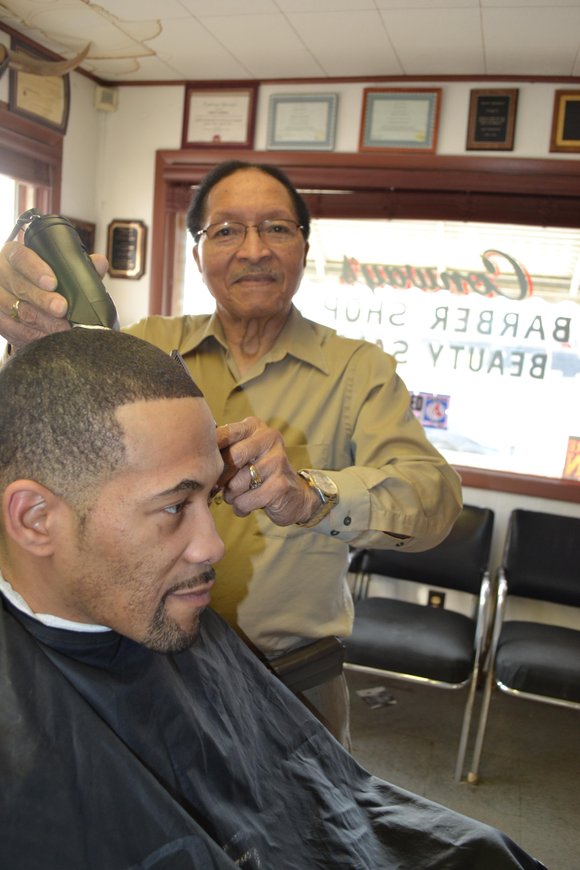 When 84-year old Mr. Percy Conway moved to Joliet to stay with relatives from his native Canton, Mississippi as a teenager, his father's words rang in his ears. "My father always told me that I could do anything I wanted to and that I would make something of myself. My father was also the type of person who never took excuses. He would never take "I can't" as a reason for not completing a task. I guess that's what gave me the drive and determination to do something for myself and open my own barber shop." That was more than 50 years ago, an he and his family are still making history as one of the oldest existing black-owned businesses in Joliet.
"I guess I got the idea to move north because, back then, during the depression, most people, be they black or white, didn't have much of anything. The opportunities, what few there were, just didn't seem to be there, especially for blacks. I grew up on my dad's farm, growing cotton and corn. It wasn't very productive, so my dad thought I could help the family better by looking for opportunities elsewhere. Whenever my relatives from up north would come to visit us, they seemed to be doing well, so I respected them. I certainly wanted to be like them, so, with my father's blessings, I moved north."
Conway worked various jobs, including work at a tool and die company. Then the so-called 'police action' in Korea broke out. "It was what they now call the 'forgotten war,'" Conway recalled, "I joined the Army, and from 1951 to 1953, I was a Tech Sergeant, heading a platoon that spent time on the 30th parallel that divided North and South Korea. I spent 13 months fighting the Chinese on the front lines before I was discharged in 1953."
Wartime also provided an opportunity for Conway to hone his barbering skills, which, he claimed, he'd nurtured since childhood. " Believe it or not, I wanted to be a barber ever since I was ten years old. Growing up, I had a couple of first cousins who cut hair, so I learned by watching them. I used to try to cut hair every chance I got. I started cutting hair on my dad's porch. We had no electricity, so I used hand clippers. I'd cut my playmate's hair and anybody else who was game enough to try me. My dad called himself cutting hair too, but he'd cut one strand and pull another. So his haircuts were a pretty painful experience to say the least."
On the way to the Korean War, Conway served on a battleship. "I, of course, had my clippers with me there too. I started cutting hair for the guys on ship. Word drifted to the officer's that I was a good barber, so I got invited to officer's quarters to cut hair for them too. Mind you, they already had a regular licensed barber who was white, but they liked the way I cut hair better. Things like that motivated me to want to pursue cutting hair when I got out of the military."