Joliet author explores lasting impact of slavery in new book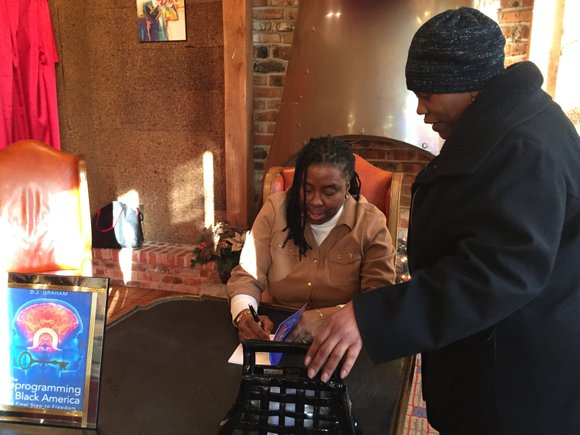 The Emancipation Proclamation may have ended the brutal practice of slavery in the United States when it was issued in 1863 but it didn't end its psychological impact.
That's according to a new book by first-time Joliet author Donna Graham, a Joliet West graduate and former.
Her book, The Deprogramming of Black America: The Final Step to Freedom written under the name D.J. Graham, looks at slavery's long-lasting impact on the African American community today.
Graham began writing the book in the late 1990s after getting what she described as divine inspiration.
"I was on my way to work one morning when something came to me and said 'write a book.'" said Graham. A moment later the title, "The Deprogramming of Black America" came to her as well.
She credits the inspiration to Jesus said Graham. "It's actually a vision from Him."
She said she took out a note pad and jotted it down. In fits and starts, she worked on the book for years sometimes putting it away for long periods until something prodded her to take it up again, writing 9 total chapters a paragraph at a time, "until I finally had a book."
Graham's book examines the impact that freeing the enslaved African Americans back in 1865 has had on future generations.
Back then, she said that many slaves were suddenly free without any notion of how to live as a free person.
"One moment I'm a slave and then all of a sudden you're telling me I'm free," she said of the many slaves who were promised 40 acres and a mull after the end of slavery by the establishment. That didn't happen so slaves were expected to forge new lives without training, support or the benefit of education.
The result has been that "some of the characteristics of the slave mentality still exist only because we were not deprogrammed," said Graham.
She equates it to someone in a religious cult getting out but never being deprogrammed and helped to re-assimilate.
The result has been generations of black people who accept being treated differently in society whether it is through interactions with law enforcement or other social structures.
"We've become so accepting, and we accept things that we shouldn't…that's part of the slave mentality, I believe," said Graham who now works in the education field.
Though the book was written for a black audience, Graham hopes that other people will also read it as well. She said that if things are to change it will take all of society working together.
Like the civil rights movement, Graham said that African Americans "will have to start this process ourselves" but "everyone is going to have to be involved."
She's already planned a follow up to the book, a curriculum that she hopes to roll out through area community organizations that will help with the deprogramming.

The time, she said, is now to get started by identifying that there is a problem and "begin to reverse the psychological effects" of slavery.
"We can't live in a society that promotes equality when basically there is inequality in our country," said Graham.