Plainfield South High School teacher's book to be published
2/26/2016, 6:57 a.m.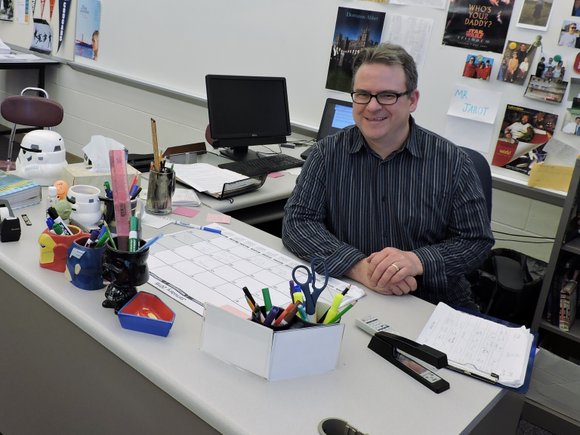 Plainfield South High School English teacher Jeff Jarot has been writing his entire life.
But he didn't start seriously submitted his work for publication until after he got his graduate degree in creative writing in 2008. "Before (writing) was always a side project because I love teaching," he said.
Now that side project "Zuzu's Petals" will be published as a book by Lit Fest Press in May 2016.
Lit Fest Press also is publishing two of Jarot's essays in anthologies later this year.
Jarot, who graduated from Plainfield High School in 1989, said he has had literary criticisms published in journals but this is his first book.
"It's a thrill," he said of getting published.
"Zuzu's Petals" involves a man who has an unhealthy obsession with the movie "It's a Wonderful Life," and how that obsession hurts his personal relationships.
How did his freshman and AP honors English students react to his news?
"Applause," Jarot said.
The publication of "Zuzu's Petals" also shows Jarot's students to never give up on a dream.
"You need to pursue what you are passionate about," he said.
Jarot's work shows that teachers lead multi-faceted lives, said Stephanie Stashak, PSHS division chair for Humanities/English and Social Studies.
"Jeff Jarot's further academic pursuits as a learner and, now, as an author exemplify for our students what can achieved through dedication and hard work," she said.