Romeoville annexes land for Blain's store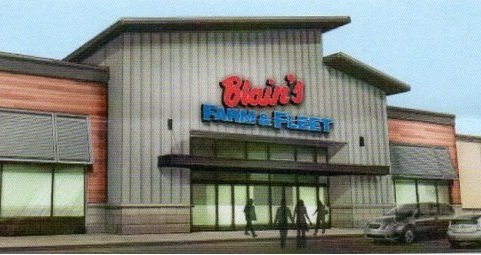 The Village of Romeoville has annexed 29 acres of land near the corner of Airport and Weber Roads that will be home to a new 122,000 square foot Blain's Farm and Fleet store.
Romeoville officials first announced the new store was coming to the village in October and got a first look at a concept plan in November.
The new 29 acre development will also include room for 7 retail out lots on the site.
The Romeoville Blain's store will be the first location in Will County for in the 36-store chain with the closest location currently in Montgomery, IL near Route 30.
The store will be the first in a new concept plan for future locations which will include an automotive repair center.
Romeoville Mayor John Noak said that the store will sell a range of products including tools, paint, toys, clothing as well as pet care items and sporting goods.

The new store will also include some LEED--energy efficienct—aspects as well with skylights included in the design to take advantage of natural light.

Other new features will include a drive up service for customers to pick up bulk items such as landscaping supplies or internet orders without having to leave their cars.
Once completed, the new store is expected to create around 100 new jobs.
Romeoville officials said that they hope the store will attract "a much broader demographic" of out of town customers who will be a "destination" for shoppers.