Black History Month Celebration, Music, Theatre featured in 2016 Arts Series
1/13/2016, 6:21 p.m.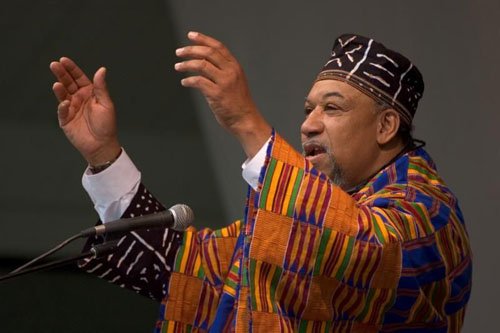 Lewis University will host a variety of performances as part of the Spring 2016 Performing Arts Series. All events are located on the university's main campus in Romeoville. Admission is free for Lewis students, $5 for guests and $10 for the general public. Tickets can be purchased at the door or by calling (815) 836-5500.
In celebration of African-American History Month, members of The Chicago Association of Black Storytellers present a program featuring narratives, myths and folktales. The spoken word will be augmented by African-American drumming. The program celebrates the depth, power and vibrancy of African-American storytelling. The performance will take place at 7:30 p.m. Thursday, Feb. 4 at the St. Charles Borromeo Convocation Center.
The second performance by Andrew Spenser, "A Different Drummer…with Broken Instruments," will be held at 7:30 p.m. Wednesday, Feb. 24 in the Philip Lynch Theatre. It features an evening of acoustic and electro-acoustic music with a percussionist who has been the featured performer at the Electronic Music Midwest Festival and timpanist with the Lansing Symphony Orchestra and the Midland Symphony Orchestra.
The third performance is "Tres Vidas: Three Notable Latina," a chamber music theatre work. It is based on the lives of three legendary Latin American women: Mexican painter Frida Kahlo, Salvadoran peasant activist Rufina Amaya and Argentinean poet Alfonsina Storni. Text is by Marjorie Agosin. The show features a wide stylistic range of music, including popular and folk songs of Mexico, El Salvador and Argentina, vocal and instrumental tangos by Carlos Gardel and Astor Piazzolla and new music written especially for the Core Ensemble by Osvaldo Golijov, Orlando Garcia, Pablo Ortiz and Manuel DeMurga. The performance will be held at 7:30 p.m. Monday, March 14 at the St. Charles Borromeo Convocation Center.
The Monarch Wind Quintet will perform at 7:30 p.m. on Thursday, March 31 at the St. Charles Borromeo Convocation Center. The quintet presents a program of music from the movies. The quintet will play selections from film score writers such as Isaak Dunayevsky, Henry Mancini and John Williams with a variety of popular and classic music from well-known and well-loved films. Featured will be an original film score by Michael Oldham.
The fifth and final performance will be at 7:30p.m. Wednesday, April 13 at the St. Charles Borromeo Convocation Center featuring Blue Horizon with Lee Murdock. Lifted by the momentum of a long career devoted to the lore of the sea, Blue Horizon is a new group of musicians who share Lee Murdock's passion for music and innovation. The accomplished musicians perform Murdock's distinctive repertoire, with a rhythmic undercurrent provided by drums and Celtic roots.
The Performing Arts Series is being presented as a part of Lewis University's Arts & Ideas Program, providing cultural and educational programming for students and the community. A portion of the Arts & Ideas events is sponsored by a grant from the Illinois Arts Council. For additional information, please contact Dr. Michael Cunningham, director of Arts & Ideas, at (815) 836-5385.