White Chicken Chili
1/13/2016, 10:54 a.m.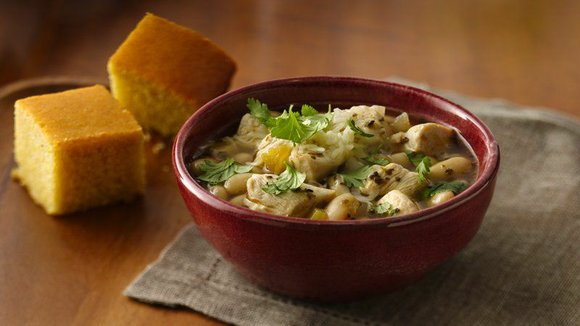 SERVINGS: 9
Ingredients
1 tablespoon vegetable oil
1 large onion, chopped (1 cup)
2 cloves garlic, finely chopped
1 lb boneless skinless chicken breasts, cut into bite-size pieces
3 cans (14 oz each) chicken broth
2 cans (15 oz each) cannellini beans, drained
2 cans (4.5 oz each) chopped green chiles, drained
1 teaspoon dried oregano leaves
1/2 teaspoon ground cumin
Dash ground red pepper (cayenne), if desired
1 1/2 cups shredded Monterey Jack cheese (6 oz)
Chopped fresh cilantro, if desired
Directions
In 4-quart saucepan or Dutch oven, heat oil over medium-high heat until hot. Add onion, garlic and chicken; cook and stir until chicken is no longer pink.
Stir in remaining ingredients except cheese and cilantro. Heat to boiling. Reduce heat to low; simmer 10 to 15 minutes to blend flavors, stirring occasionally.
To serve, spoon chili into soup bowls. Top each serving with cheese and cilantro.