Wine of the Week - 1865 Single Vineyard Cabernet Sauvignon 2013-$16
1/13/2016, 5:27 p.m.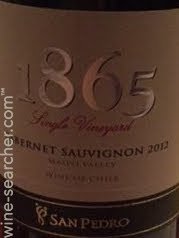 The unseasonably warm temperatures of early winter have receded and now, true wine is upon us. Its time to start thinking about serving heartier fare at the lunch and dinner table, such as hearty soups and stews, braised and roasted meats and savory one-dish meals like gumbo, beef bourguignon or a rustic rosemary or sage and garlic chicken. The choice would be a newly arrived vintage from Chile Maipo Valley, 1865 Single Vineyard Cabernet Sauvignon 2013 ($16). Maipo Valley is the closest Chilean wine region to Santiago, the capital city of Chile. It extends eastwards from the city to the Andes and westward to the coast, producing Cabernet Sauvignon or Cabernet blends. It is a historic wine-producing region and the birthplace of the Chilean wine industry, with vines growing there for the past 150 years.

Produced from grapes grown on 40 year old vines, 1865 Single vineyard Cabernet is from the Alto Maipo Valley, a region high up in the Andes mountains, with rich a rich blend of clay and loam grown on alluvial terraces. The grapes benefit from a Mediterranean climate that features high daytime temperatures and cool nights and mornings with coastal breezes. The resulting wines are complex, with deep flavors of ripe red fruit, the smell of crushed red rose petals and hints of dried pomegranate, tart cherries and cranberries and a slightly smoky finish with Mediterranean spices; cardamum, anise and shaved allspice. Hints of dark chocolate and the smell of potpourri make this an elegant drinking experience that lasts through the main course. Please save some to savor on its own as you relax at the conclusion of the meal as the wine will have just started to open up by then and reveal its true majesty.