Mayor O'Dekirk boasts of bright future for Joliet in city address
Finances, economic development part of new vision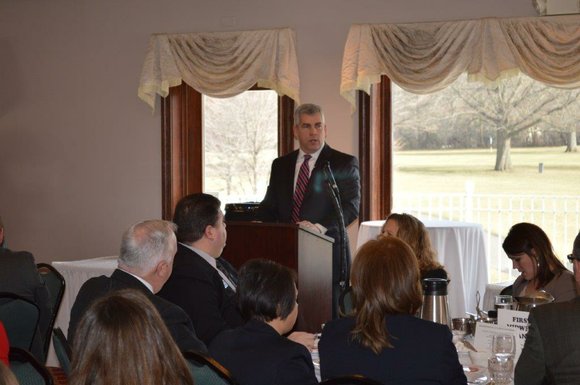 Things are looking up in Joliet according to Mayor Bob O'Dekirk.
The first-term mayor gave his very first state of the city address on Wednesday at the Joliet Country Club, 1009 Spencer Rd. before an audience of chamber of commerce members.
On his watch the city has erased a projected $8.6 million budget deficit over the last year that would have required officials to take $3.6 million from reserve funds.
That never happened said O'Dekirk and the city ended the fiscal year with $1.7 million added to its reserves, a result of the city's conservative approach to budgeting.
With the lawsuits surrounding the Evergreen Terrace housing complex largely over, O'Dekirk struck a positive note for the coming year that will focus on economic development and job creation in the city and its western suburban fringe.
Moving forward, O'Dekirk said that the challenge for the city will be to begin weening itself off its reliance on riverboat casino money. The city brought in only $18 million in casino revenue last year, half what it used to. Most of that money was used for its general fund.
O'Dekirk said that the city will have to learn to use those funds for capital expenditures since "revenues are not going to go back to the levels they were before."
Boosting other city revenue sources will come from a focus on economic development. O'Dekirk said that the city added an economic development director this year to steer commercial growth especially on the city's western edge.
The city hired Steve Jones for that position.
"This is the first time in the city's history that we've had a true economic development director," said O'Dekirk.
"New growth is going to continue in Joliet," he said citing a 24% increase in new building permits in 2015.
Job growth is another trend that will continue in 2016 said O'Dekirk who noted continued development of businesses around the city's intermodal site, which attracted heavy hitters like Art Logistics, IKEA, Conway Freight, Saddle Creek Logistics, Whirlpool, and Amazon.com which is building a 500,000 square foot building in Joliet near the intermodal.
"What this represents is millions of dollars of private money, which has been invested in our city," said O'Dekirk.
More development will be coming said the mayor who noted that the intermodal site is only at 60% build out capacity. He also hinted that there would be some other big announcements to come this year.
"I can say I've signed more than one non-disclosure agreement," said O'Dekirk.
Also helping to continue the growth in the city, O'Dekirk talked about the new Will County Courthouse that will begin construction sometime in 2017.
"I thought it was imperative that that courthouse be built in downtown Joliet," he said noting that the deal was a great example of government agencies working together.
O'Dekirk did note that the city would continue to work with developers on economic incentives to do business in the city but would begin to demand that one of the conditions be the hiring of more local workers for those jobs.
"Local people are going to have access to those jobs," said O'Dekirk.
Nona Parker, a pastor from Antioch Christian Assembly Church was glad to hear that the city's legal wrangling over Evergreen Terrace was behind them but still wanted to know what the plan will be for the residents who live there.
"What happens when there is no Evergreen Terrace?" she asked, adding, "They deserve to be treated fairly."
Local business owner Cathy Renwick said she was glad to see the focus on economic development but hopes that the city's public works department keeps its focus on providing safe drinking water. She is concerned after hearing of problems with Flint, Michigan's water supply.
Renwick asked the mayor about it, not to put him on the spot she said, but to raise awareness that it could happen anywhere.
"I wanted it to be out in the open," she said. brock@thetimesweekly.com - @brockastein