2016 Toyota RAV4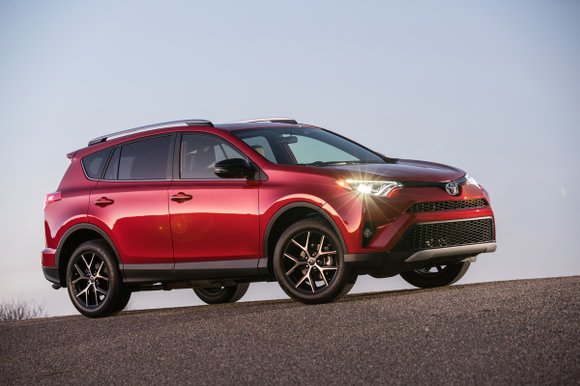 The introduction of the 2016 Toyota RAV4 Hybrid has garnered so much attention that little note has been made of this model year's gasoline powered version of the RAV4. Toyota doesn't even bother to list the 2016 model year on its media Web site.
Granted, not much has changed from the 2015 model but still. Anyway, we had the 2016 SE AWD and again we were reminded why this small utility vehicle is one of the best at what it does.
First, the RAV4 is no longer that small. The wheelbase was 104.7 inches, overall length was 181.1 inches, and it was 72.6 inches wide and 65.5 inches tall. Make that 67.1 inches with roof rails which our test vehicle had.
But don't get it twisted. That RAV4 was a nicely sized utility vehicle. There was plenty of room in the front passenger compartment and rear seat passengers could ride comfortably for long distances. There was 38.4 cu. ft. of cargo space behind the 60/40 split rear seats. Fold them and that expands to 73.4 cu. ft.
Toyota says the RAV4 can carry five people. That's not a claim; we think five folks can be comfortable in the utility vehicle for the average drive. Our interior was pretty good. Fit and finish was as expected, excellent.
The vehicle was ergonomically correct. You don't notice anything and that was a good thing. Instruments were easy to see and easy to reach. However, it was a little bit of a stretch to reach the upper right corner of the touch screen but how often do you need to do that?
The seats were really comfortable. Toyota has done a lot of work in this area. We had to make a quick overnight run to Chicago. The 275 mile trip getting there was relatively grueling. It rained just about all the way, there were road construction slowdowns in several spots and a severe accident turned an easy drive into an arduous one. But when we arrived we weren't exhausted, we credit the RAV4's seats. Comfortable seats are indispensable for comfortable driving.
About the only thing we found to quibble about was the polymer shield of the climate control reading. It was glaringly distracting when sunlight shone on it at the right angle. And that was with the screen for the moonroof closed.
There was a multi information display in the gauge cluster. Its data included average fuel economy, instant fuel economy, distance to empty, selected gear, as well as warnings for low fuel, battery and the tire pressure monitoring system. However, we still wish it digitally showed speed. You've got to look at the speedometer to ascertain your speed. As crazy as it seems, that's novel this days.
Under the RAV4's hood was a 2.5 liter four-cylinder engine that made 176 horsepower and 172 pound-feet of torque. It was mated to a six-speed automatic transmission with drive mode selector. The choices were normal, sport and eco. We stayed in normal mode for our week-long test drive.
This engine was adequate. It was a little lacking in terms of acceleration on the Interstate from, say 50 mph to whatever. Other than that it was competent for everyday driving.
Our RAV4 had all-wheel-drive. In fact, it was the first Toyota equipped with what the automaker has branded Dynamic Torque Control All-Wheel Drive. Under normal driving conditions, the system is 100 percent front wheel drive. It can send as much as 50 percent of the engine's torque to the rear wheels if it detects wheel slippage. And it can also automatically shift to four-wheel-drive when the RAV4 is accelerating.
The 2016 Toyota RAV4 was chock full of creature comforts and safety equipment. It had a bird's eye view camera, a backup camera, a pre-collision system with pedestrian detection and steering assist. There was radar cruise control that was much appreciated on the way to Chicago, a navigation system, Bluetooth, satellite radio, voice controls and an Entune multimedia bundle that allowed us to play music as well as Pandora off our smartphone.
We also had heated front seats and dual climate controls. This was a well-equipped small sport-utility vehicle. And for $34,595, it was reasonably priced.
Frank S. Washington is editor of AboutThatCar.com.