Rainbow PUSH and NAACP join forces to register 2 million new voters
7/6/2016, 5:54 a.m.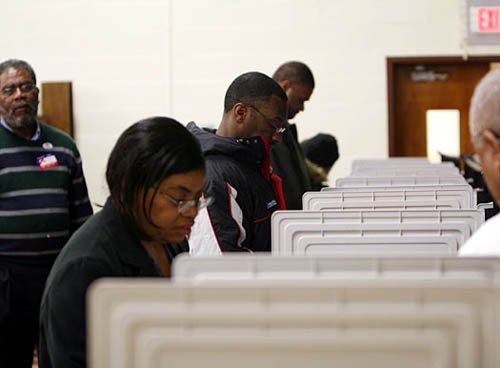 To counter voter suppression schemes and to protect 50
years of racial and social progress in America, the Rainbow PUSH Coalition
(RPC) and the National Association for the Advancement of Colored People
(NAACP) are joining forces this summer to register two million new voters
for the Nov. 8 presidential election.
"If we vote our hopes and not our fears we can win this election," Rev.
Jesse Jackson, founder and president of RPC, said at a news conference
Saturday, the first day of the human rights organization's 45th annual
international convention – *A More Perfect Union: From Freedom to Voting
Rights to Economic Justice.*
Cornell Brooks, president of the NAACP, joined Rev. Jackson at the news
conference at PUSH national headquarters, 930 E. 50th Street in Chicago.
Brooks said there is "a Machiavellian frenzy of voter suppression" across
the country, but it is especially bad in the South. He said many of the
schemes target college age voters, calling it "a generational war against
the young."
"We do not have an hour to waste," Brooks said. "We have less than five
months to protect" 50 years of civil and human rights victories.
Earlier Saturday, Rev. Jackson and Brooks participated in a panel
discussion about the 2016 election and the urgent need to rebuild urban
American with Georgetown University professor and author, Michael Eric
Dyson, Robert Borosage, of Campaign for America's Future, attorney Janice
Mathis, Executive Director of the National Council of Negro Women, and John
Nichols of The Nation magazine. Award winning journalist, Roland Martin,
of TV One, was the moderator of the discussion that was broadcast live
across the globe.
It was a busy first day at the convention. There was a reunion of the
legendary Operation Breadbasket Orchestra and a performance by noted singer
and actress Melba Moore. There was a youth anti-violence concert in front
of the building, a PUSH Excel national oratorical competition and a room
full of flight simulators and romping, stomping robots, a demonstration of
PUSH Excel's STEM program and Tech lab.
The convention's kickoff breakfast and panel discussion Saturday featured
radio producer, writer and television commentator, Santita Jackson, Betty
Magness, Rainbow PUSH Illinois political director, political scientist
Robert Starks, Ralph Martire, Executive Director of the Center for Tax and
Budget and economist, Julianne Malveaux, who said, "Voting is not the most
you can do; voting is the least you can do."
The convention runs through June 29. Convention events, such as the
International Reception and a technology career fair, will be at national
headquarters on Sunday, June, 26. Convention activities on Monday, June 27,
Tuesday, June 28, and Wednesday, June 29, will be held at the Hyatt Regency
McCormick Place.