Grilled Shrimp Taco Bowl
7/11/2016, 11 a.m.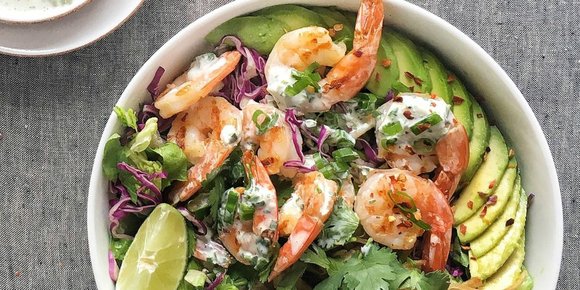 SERVINGS: 4
Ingredients
• 4 scallions, chopped
• 1/2 c. chopped cilantro, plus more for garnish
• 1 c. plain yogurt
• 1/2 c. mayonnaise
• 1 garlic clove, chopped
• 1/4 c. red wine vinegar
• 2 tbsp. fresh lime juice
• kosher salt
• Freshly ground black pepper
• extra-virgin olive oil
• 4 corn tortillas, cut into thin strips
• 1 1/2 lb. medium shrimp, peeled and deveined, tails removed
• 1 c. shredded red cabbage
• 2 romaine hearts, finely chopped
• 2 avocados, pitted and sliced
• 1/2 tsp. crushed red pepper flakes
Directions
In the bowl of a food processor add 2 chopped scallions, cilantro, yogurt, mayonnaise, garlic, vinegar, lime juice, 1/2 teaspoon salt, and 1/4 teaspoon black pepper; pulse until combined. Transfer to a small bowl and refrigerate until serving.

In a small skillet heat 2 tablespoons olive oil over medium-high heat. Add tortilla strips in batches and shallow fry until golden brown. Transfer to a plate lined with paper towels. Fry remaining tortilla strips, adding more oil as needed.

Heat a grill or a grill pan over high heat; oil the grill grate. In a medium mixing bowl, season shrimp with salt and pepper; drizzle with olive oil and massage. When grill pan is hot place shrimp in a even single layer. Cook for 2 minutes on each side and transfer to plate.

Mix red cabbage and romaine together. Divide greens, avocado, tortilla strips and shrimp into 4 large bowls. Drizzle with cilantro yogurt dressing and sprinkle with remaining scallions and crushed red pepper flakes.