New Valley View school website is parent-friendly
7/12/2016, midnight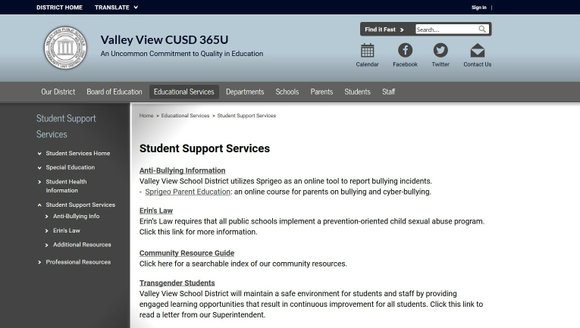 Valley View School District 365U's Student Services Department has created a new parent portal on the VVSD website.
The portal, which is available 24 hours a day, seven days a week, includes information on the state-required child sexual abuse prevention program known as Erin's Law, information on VVSD's anti-bullying program known as Sprigeo, a summary of VVSD's efforts to follow guidelines set forth by the U.S. Departments of Justice and Education regarding transgender students, VVSD's Community Resource Guide, and links to a variety of community, statewide and national parental assistance resources.
The Erin's Law portal details requirements that all public schools in Illinois to provide age appropriate prevention-oriented child sexual abuse recognition programs to children in grade Pre K through 12.
The Sprigeo portal utilizes videos to help parents understand how to recognize and report incidents of bullying.
The Community Resource Fair Guide contains hundreds of local and regional contacts for a myriad of family-related services.
The information regarding transgender students includes a letter from VVSD Superintendent Dr. James Mitchem re-iterating VVSD's commitment to preserve the dignity and safety of all of its students.
Additional resources on the parent portal include links to information on homework, legal rights, Attention Deficit Disorder, hyperactivity, and success in school as well as links to such groups as the National Center for Learning Disabilities, the National Down Syndrome Society, the Parent Advocacy Coalition, Mental Health America, the National Association for the Education of African American Children With Learning Disabilities and much more.
The portal may be found by going to http://www.vvsd.org/Page/349 or by going to www.vvsd.org, clicking on "Curriculum," then on "Student Services" and finally on "Student Support Services."