Shrimp and Pasilla Chile Tacos
7/13/2016, 11 a.m.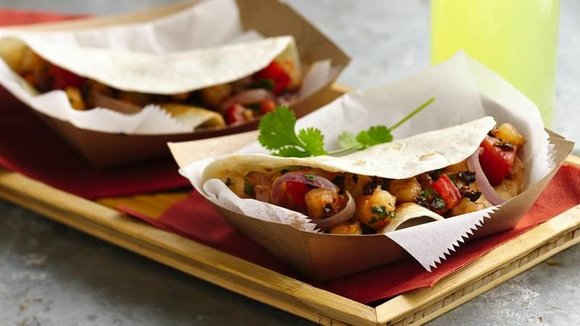 SERVINGS: 12
Ingredients
5 small or 3 large dried pasilla chiles
2 tablespoons olive oil
1 small red onion, cut into julienne strips
2 cloves garlic, finely chopped
1 1/4 lb uncooked deveined peeled medium shrimp, chopped
1 teaspoon dried marjoram leaves
3 bay leaves
1/2 teaspoon salt
1/4 cup chicken broth (from 32-oz carton)
6 plum (Roma) tomatoes, chopped
1/4 cup finely chopped fresh cilantro
1 package (8.2 oz) flour tortillas for soft tacos & fajitas (6 inch), warmed
Directions
• 1 In medium bowl, soak pasilla chiles in hot water about 1 minute. Remove and discard seeds. Chop chiles; set aside.
• 2 In 12-inch skillet, heat oil over medium-high heat. Add onion and garlic. Cook and stir about 3 minutes or until onion is tender. Add shrimp; cook about 2 minutes or until shrimp turn pink. Stir in chiles, marjoram, bay leaves and salt. Stir in chicken broth; cook and stir 2 to 3 minutes or until mixture is reduced.
• 3 Add tomatoes and cilantro; cook 1 minute. Remove bay leaves. Cool slightly. Spoon about 1/2 cup mixture onto each tortilla. Roll up tortillas.