Bolingbrook High alum wins state twirling competition
7/14/2016, midnight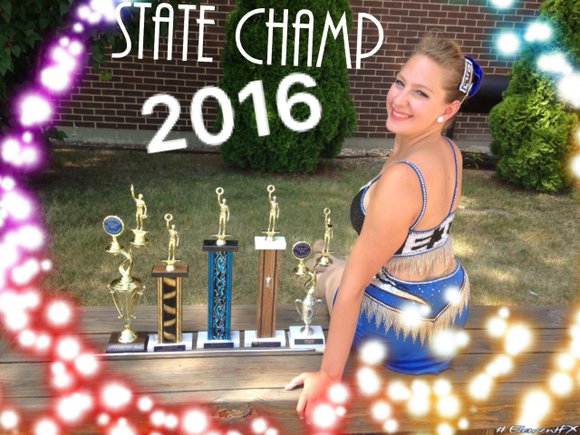 Bolingbrook High School graduate Nicola Colucy won the National Baton Twirling Association's Illinois Senior Intermediate Twirling championship last weekend.
A senior at Eastern Illinois University where she will be the Feature Twirler for the Color Guard unit of the EIU Panther Marching Band for the third straight year, Colucy has also qualified for the AAU Junior Olympic Games in Houston and placed 2nd in Two Baton, 5th in Solo, 11th in X-strut, and 13th in 3-Baton at the NBTA Twirling championships in South Bend earlier this year.
Colucy's path to becoming a baton twirling champion was not easy.
At the age of 2-1/2, she was diagnosed with Central Auditory Processing Disorder (CAPD)…a relatively unfamiliar disorder…kind of an audio dyslexia or a bad audio track on a television program where the mouth and voice aren't in sync. She was able to function normally, but couldn't process the information she heard in the same way as everyone else does because her ears and her brain didn't communicate well with each other.
Colucy credits her parents and her teachers and resource people in Valley View School District 365U with teaching her coping skills since there wasn't any medicine or cure for CAPD. Now when her brain does not understand what it hears, she knows how to handle it.
"I am successfully overcoming my disorder every day," said Colucy, who is constantly working to raise public awareness about speech and hearing disabilities. "As a student with CAPD, I shouldn't have been a third year percussionist for the BHS Symphonic Band or twirling with the Marching Raiders, playing trombone in the BHS Jazz Band, acting, dancing, performing, on the Honor Roll, or successfully doing one-on-one interviewing with judges at my twirling competitions. The doctors, therapists, and teachers thought it would be impossible."
Colucy will graduate from EIU with a degree in Sports Management. She hopes to work in the health communications or sports management.