Local officials see bridge to better economic times
Project expected to bring reduced traffic, jobs and more to Will County
Rex Robinson | 7/14/2016, 5 a.m. | Updated on 7/14/2016, 11:38 a.m.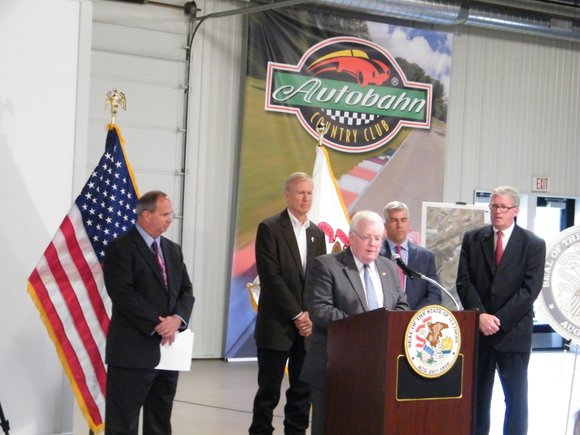 It's a big project with a big price tag that is expected to bring big traffic relief to Joliet and Will County so it should be no surprise that this week's announcement to get it funded and built attracted top officials from the state, county and city.
The announcement Monday to build a new Houbolt Road bridge linking Interstate 80 and the intermodal facilities in Will County at a proposed cost of between $170 million to $190 million comes at a time when very little appears to be getting done in Illinois as a result of major fiscal deficiencies and an inability to get any major projects done due to disagreements drawn mainly along party lines. While the project could potentially create hundreds of jobs, officials said it was too early to determine any definitive number when it comes to employment.
This project, however, is being funded not by state government alone, but as a result of an agreement between state and local governments and CenterPoint Properties. The first-of-its-kind project in Illinois is expected to get underway in 2017 and is designed to alleviate traffic congestion on local roads, improve safety and further strengthen the state's economy, according to Gov. Bruce Rauner, who along with Illinois Department of Transportation Secretary Randy Blankenhorn, and officials from both Will County and the City of Joliet were on hand for Monday's announcement at the Autobahn Country Club in Joliet.
"The project is long overdue and will only enhance the region's position as a freight hub for North America and an economic engine for the state," Rauner said. "Illinois needs more projects just like these creative solutions to fund infrastructure and keep Illinois competitive far into the 21st century."
One local official at the forefront of economic development in Will County for many years could not agree more. John Greuling, president and CEO of the Will County Center for Economic Development said this project is something he and local officials have been promoting for the last 10 years.
"It's not new in the sense that even before the Union Pacific yard opened in Joliet in 2010 we were concerned about the limited access to the Intermodal in Elwood," Greuling said. "Since 2002, when the first intermodal yard opened in Elwood, we've added 20 million square feet of industrial space and created 8,000 new jobs."
Greuling and other officials are confident in this project mainly due to the way the funding for it is being broken down. According to the agreement, CenterPoint will build and operate the new tolled bridge on Houbolt Road over the Des Plaines River and the BNSF Railroad tracks at a cost of $150 million to $170 million. The Will County Board will be required to adopt a resolution allowing tolls to be issued and collected by CenterPoint.
"This is a great example of public and private sectors working together to solve regional transportation issues," Will County Executive Larry Walsh said.
Will County is home to the largest inland port and more than $75 billion in goods are imported and exported through the two intermodals, Union Pacific Joliet and Burlington Northern Santa Fe in Elwood. The new bridge, according to Walsh, will improve access to Interstate 80 across the Des Plaines River.