USF celebrating homecoming in September
7/14/2016, midnight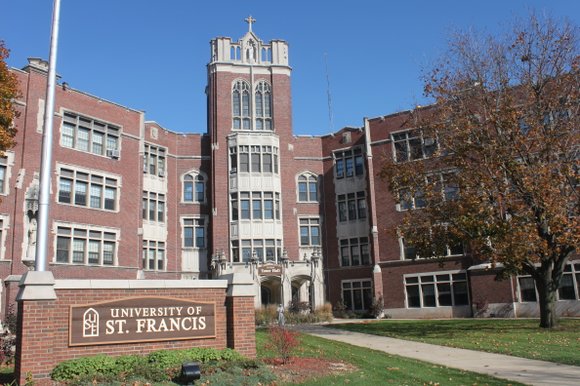 The University of St. Francis will celebrate Homecoming & Reunion Weekend on Saturday, Sept. 24 and Sunday, Sept. 25. The weekend will include many class reunions, a tailgate party, football game and a few events on Saturday night that are new this year.
Alumni, students and parents are invited to the weekend's events, but the public is also welcome at the Homecoming football game, according to Aubrey Knight '04, '07, director of Alumni & Family Relations.
The Homecoming football game begins at 3 p.m. at Joliet Memorial Stadium, where the Fighting Saints will take on Robert Morris University. Prior to the game, a tailgate on the north side of Memorial Stadium will begin at 1 p.m. Friends of all ages are welcome to attend and enjoy free food, music, giveaways, children's activities and other fun before kick-off.
Attendees who stop by the Alumni & Family Relations table will receive a free T-shirt.
"The tailgate event is by far the biggest event of the weekend," says Knight. "Several hundred alumni, faculty, students, parents, staff and friends of the university attend this celebration. The excitement for the weekend's events and everyone's love for St. Francis can be felt amongst the entire crowd."
After the game, a football alumni reunion will be held at Traditions Restaurant & Pub located inside the Joliet Park District. Coach Joe Curry will be in attendance along with many alumni and friends for a night of camaraderie.
Many other events are taking place on Saturday, including various alumni network meetings, alumni baseball, softball and soccer games and dinner at the Terrace Café. Three new events have been announced this year as well.
Saturday evening will begin with the Honored Alumni Cocktail Reception. All alumni are welcome to attend as the honored classes of 2011, 2006, 2001, 1996, 1991, 1986, 1981, 1976, 1971, 1966 and previous years gather in San Damiano Hall and are celebrated.
Following the reception, 'Beatlerama!' a Beatles tribute band, will rock the San Damiano stage. The group not only sounds like the original Beatles, but also dresses the part throughout their performance with several costume and guitar changes.
Immediately following this performance, the Young Alumni Night Out will take place at Tin Roof in downtown Joliet, hosted by the Young Alumni Committee of the Alumni Association Board.
Sunday's activities include the alumni memorial Mass at 9 a.m. in St. Joseph Chapel, the Assisian Club brunch at 10 a.m. and a campus tour at noon. This year, the Assisian Club will induct the class of 1966, celebrating its 50-year reunion, at the Assisian Club Brunch. This is a distinguished honor for this class and all others celebrating 50+ years as alumni. Vice President and Dean of Students, Damon Sloan, will host this event and honor our special guests.
The alumnae volleyball game is scheduled for the following Saturday, Oct. 1 at noon.
"Homecoming & Reunion Weekend is a great opportunity for alumni to connect with their classmates at their alma mater while fondly reminiscing their college experience," Knight states. "We are honored to be a part of it."
This is only a highlight of the many available events taking place during the weekend. A full list of events including details, costs, hotel recommendations and directions are available at stfrancis.edu/hcrw.