Romeoville adding electronics recycling drop off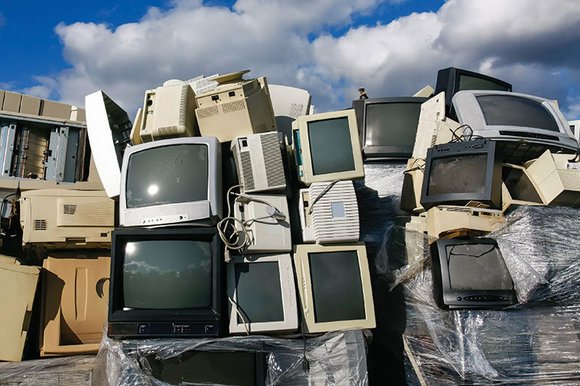 The Village of Romeoville has approved an agreement with Will County that will re-establish an electronics recycling drop off for its residents and create a fourth drop off site for county residents.
The new drop off site will be located at the village's public works facility, 615 Anderson Dr., and will run two times per month according to assistant village manager Dawn Caldwell.
Caldwell said that the dates and times were still being worked out with the county and is expected to be open in August.
The village's electronics recycling center site on Budler Road closed in February as funding and markets for the reclaimed material waned. The county would eventually close all 13 of its recycling sites.
Caldwell said that the new drop off site will be run in partnership with the county and at "not a lot of cost" to the village. Requirements for security cameras at the site were already within the budget for 2016 said Caldwell.
"This is something that we really wanted to provide to the residents," she said.
Romeoville Mayor John Noak said that the "funding constraints" for the program were a challenge but said that the new twice-monthly drop off model would "help fill the void."
"It's the best alternative in the near term," said Noak who noted that the village would continue to look at other avenues for electronics recycling.
The 2012 Electronic Products Recycling and Reuse Act made it illegal for Illinois residents to toss their old electronics in to the garbage citing the nearly 3 million tons of electronic waste that becomes obsolete each year and the small amount (14% in 2007) that was recycled.
County residents used the previous 13 permanent sites to recycle 4.5 million pounds of e-waste in 2015 alone.
The new Romeoville drop off site, with its two-times per month drop off dates follows similar models for recently re-opened sites around the county.
The village will join Lockport, Peotone and New Lenox Township offering limited pickup times a couple times each month.
To help meet the need for recycling options, Plainfield, Mokena and Bolingbrook have also recently started curbside collection service for electronics.
In addition to the new Romeoville electronics recycling site, the county also maintains the following drop-off locations:
City of Lockport
• Location: 17112 South Prime Blvd
• Hours: Tuesday and Friday from 6 a.m. to 11 a.m.
• Residents must show a driver's license
• Limit of 2 TVs per vehicle
Peotone electronics recycling (starts July 20)
• 208 E Main St, (police department)
• Hours/Dates: 1st and 3rd Wednesday of each month from 5 p.m. to 7 p.m.
• ID required
New Lenox Township electronics recycling (starts July 27)
• Location: 1100 S. Cedar Road

• Hours/Dates: 2nd and 4th Wednesday each month from 5 p.m.-7 p.m.
• ID required