Wine of the Week-Champagne Taittinger The Art of Celebrating The Holidays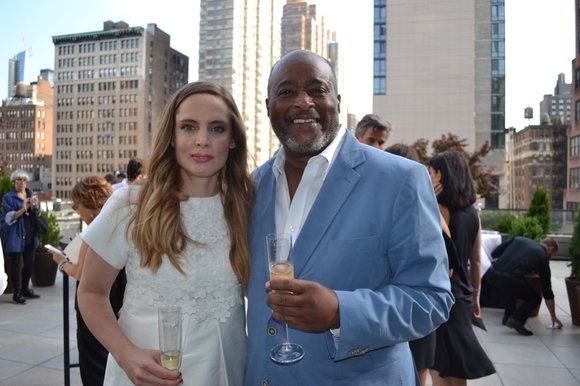 Vitalie Taittiinger, Artistic Director of Champagne Taittinger arrived in a stunning designer summer party dress to preside over the grand marquee Champagne houses' "The Art of Celebrating The Holidays" for the 2016 season. The event was held at the Eventi Suite and South Veranda, a Kimpton Hotel in midtown Manhattan, in the shadow of the Empire State Building.
An harmonic convergence of celestial events formed the backdrop to the stellar event. A bright half moon hung in the sky over the Eventi Veranda, which was framed by a dramatic midtown Manhattan skyline as the rare "Manhattanhenge" sunset, seen only a few times each year, descended outside.
An authentic Parisian Raw Bar, with oyster, clams, giant shrimp and steamed lobsters greeted guests, along with the famed chocolatier Chef Jacques Torres and his exquisite Dessert Bar featuring his signature chocalates, macarons and the famous Croquembouche Macaron Wedding Tower, a traditional French Holiday favorite.
A side conference room also featured a Caviar and Champagne Seminar led by Chantelle Pabros, top NYC Sommelier and John Knierim, of Calvisius Caviar.
The Holidays can be overwhelming with so many personal tastes, palattes and preferences to cater to among family and friends. Champagne Taittinger offers a myriad of unique concepts to introduce creative and beautiful concepts to make for a memorable occasion.
For example, Caviar and Champagne make an elegant pairing for the Holiday Season. Served alone or as an element to add an elegant tone to holiday dishes, caviar is a simple, but effective grace note that elevates even the simplest fare.
The High-Low Snack Bar, which pairs Champagne with a dazzling array of guilty pleasures; Fried Chicken with Rosemary Honey and Sea Salt, Potato Crisps wirh Mascvarpone Creme Fraiche, Brie and Pomegranate Crostini with Balsamic Crema, are all unexpected Champagne pairings that will leave your guests clamoring for more.
Top off the night with an elegant display of mouth-watering desserts, including the Champagne Taittinger Macaron, and you've added a layer of sparkle to your celebration.
Champagne Taittinger is one of the last family-owned and operated grand marquee Champagne houses in the world. For more holiday entertaining suggestions visit www.taittinger.com.