2016 Mazda3 4-door Grand Touring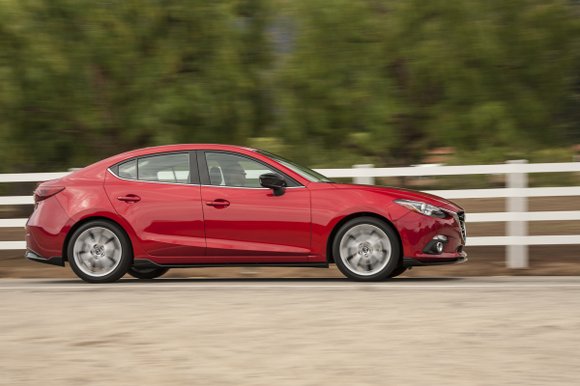 For at least the last several years, the Mazda3 has gotten a little bit better each year. That's saying something because the Mazda3 is one of the best small cars on the market and it has been on top of the heap for at least a half decade.
And the engineers from Fuchu, Japan, keep on making incremental value added improvements. For 2016, they've made a rearview camera standard on all models. They created new option packages and gave the Touring and Grand Touring new trim lines, automatic headlights and rain-sensing windshield wipers.
We had the 2016 Mazda3 Grand Touring model and it also had an auto diming rearview mirror, a power moonroof and illuminated vanity mirrors. That might not sound like much but the Mazda3 starts just shy of $18,000.
At any price, the Mazda3 is a good looking car. It had a long hood, the wheels were pushed to the corners, and there was a raked windshield and a spacious interior. The grille was upright and as Mazda said "slinks" over the fenders and onto the back of the car. Mazda has branded its design language as KODA, meaning Soul of Motion. And indeed, the car did look like it was moving while standing still.
The interior was pretty cool too. It was black leatherette interior with red stitching. The car had a seven-inch color information touch screen. There was a mouse in the console and the car was equipped with a premium sound system.
We had the four door sedan. There is a five-door hatchback. In the front were heated seats and dual climate controls. There was plenty of headspace in the back seats. Pull the front seats up just a little bit and legroom in the rear was comfortable. But that's for two people; try and get three adults back there and it would be crunch time.
The only quibble we had was the 60/40 split back seat didn't function properly. It had to be released from inside the trunk. And when we pulled the release only one side flopped down.
The test car was equipped with the base engine, a 2.0-liter four cylinder that made 155 horsepower and 150 pound-feet of torque. There is an automatic transmission but the test car had a six speed manual gearbox.
Mazda also offers a 2.5-liter 185 horsepower four cylinder but the 2.0-liter had plenty of pep. It was rated at 29 mpg in the city, 41 mpg on the highway and 33 mpg combined. We did a moderate amount of driving for six days and still had not used a quarter of tank of fuel.
SkyActiv debuted in the Mazda3 in 2012 and with it came lightweight steering, direct fuel injection and lean-burn Atkinson-cycle combustion at low rpms in the engine rev range. The new Mazda3 has the latest SkyActiv technology that included its chassis, engine, transmission and body to create a lighter and sportier car. Indeed, the Mazda3 with its 155 horsepower engine seemed like it had a lot more oomph than it did because of its light weight, 2,865 lbs.
This car rode smooth, it was quiet, it had a firm suspension and it was easy to handle. What's more, it was chock full of stuff. It had a smart key with push button start. The rearview camera had cross traffic alert and there was blind side alert. Bluetooth, voice controls, satellite radio and a navigation system were all part of a well-equipped car.
There are 10 trim levels of the Mazda3. The test car had 16-inch alloy wheel and it had heated side mirrors. And there was a premium sound system. It was a really nice package. And it was well worth its $23,435 as tested sticker.
Frank S. Washington is editor of AboutThatCar.com.