Church crusade strikes note for unity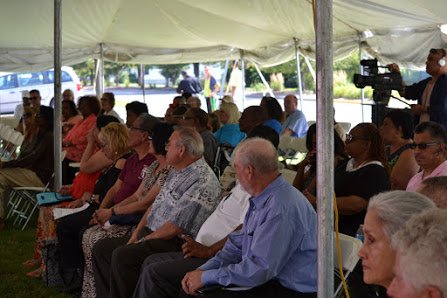 In the face of the divisive rhetoric in the current social and political atmosphere, John King, organizer of the annual Joliet Crusaders for Christ has changed the focus of the organization he founded and renamed the annual revival "Churches United for Christ.
King said the crusade, now in its 11th year, is important because the two-week event will not only provide the community with spiritual nourishment, but will fill a societal void.
"This is really fundamentally what churches should do," King said. "Churches should tear down barriers. They should forget about denominations and get together and show people love."
Pastors from about 30 area churches have been involved in organizing the crusade with King. The revival started July 16 and runs until July 30. A different pastor is leading the worship each night. The revival tent is set up at 224 S. Chicago St. Joliet until Friday, July 22, and then will be moved to 2365 W. Jefferson St. Joliet until the revival ends. This is a change from previous years when the event was held the entire month of June.
"This is not just motivational speaking with religious overtones," King said, adding that this year, he wants to broaden the scope of the crusade.
King's goal, he added, is to expand the message to include discussions about jobs and curbing violence in the community.
"We want to give the young people something else to do this summer besides being in the streets," King continued.
While the thrust of the crusade is non-political, King added he is aware of the divisive culture that has been created in the current political atmosphere and hopes to use the crusade to help combat its impact.
"There is so much disunity, distrust, racial bias and fighting," King said. "You can feel it in the air.
"We don't get into politics, but we're hoping to combat the divisions within society with the crusade's message of love and unity," he added. "This crusade is more important now, than in any other year."
For more information, visit churchesunitedforchrist.org.
Story photos by Alex Ortiz