Peach-Ginger Shortcakes
7/22/2016, 8 a.m.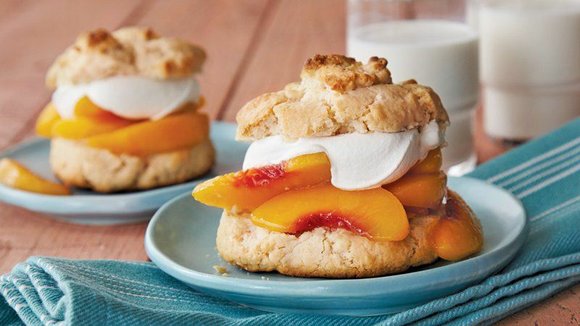 SERVINGS: 6
Ingredients
Filling
3 cups sliced peeled peaches
¼ cup packed brown sugar
¼ teaspoon ground ginger
Shortcakes
2 ½ cups Original Bisquick™ mix
¼ cup granulated sugar
3 tablespoons chopped crystallized ginger
½ cup half-and-half
¼ cup butter or margarine, melted
Sweetened Whipped Cream
¾ cup whipping cream
4 ½ teaspoons granulated sugar
¾ teaspoon vanilla
Directions
1 In medium bowl, gently toss peaches, brown sugar and ground ginger until coated. Let stand 30 minutes or until syrupy.
2 Heat oven to 425°F. In large bowl, stir Bisquick mix, 1/4 cup granulated sugar, the crystallized ginger, half-and-half and melted butter until soft dough forms. Onto ungreased cookie sheet, drop dough by 6 spoonfuls.
3 Bake 10 to 12 minutes or until golden brown. Cool 15 minutes.
4 In chilled medium bowl, beat sweetened whipped cream ingredients with electric mixer on low speed until mixture begins to thicken. Gradually increase speed to high and beat just until soft peaks form.
5 To serve, split warm shortcakes; place on dessert plates. Fill and top with peach mixture and whipped cream.