Will County Board heralds historic partnership to build new Houbolt Road bridge, I-80 interchange
7/22/2016, midnight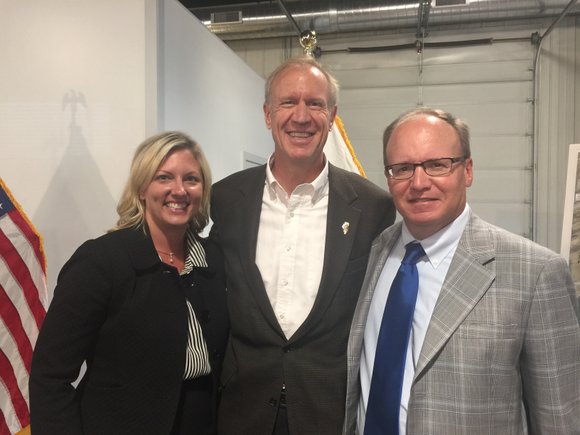 The Will County Board praised a historic public-private partnership agreement to build a new Houbolt Road bridge over the Des Plaines River in Joliet connecting Interstate 80 and intermodal facilities that are the country's largest inland port. The announcement is welcome news to board members that have lobbied state officials for over a year to find a solution to relieve truck congestion, answer traffic safety concerns and protect the thousands of jobs and $75 billion dollars in annual freight activity flowing through the port.
"This is a fine example and great model of government and private businesses working together to improve infrastructure, increase safety and invest in our local economy," said Speaker Jim Moustis. "Will County is ground zero for transporting freight through our country, and we must continue to find ways to make our intermodal ports more efficient."
Last year, board member Ragan Freitag (R-Wilmington), chair of the Capital Improvements Committee, testified before an Illinois House committee and urged elected officials to act quickly on the Houbolt Road bridge project, calling for a public-private partnership to provide much-needed relief on the wear and tear of local roads. Freitag cited Will County's expanding role as a major transportation and shipping center as a key reason for taking prompt action.
"I'm extremely excited to be a part of such a huge project that will not only create safer road conditions but create economic growth and jobs for all trades and union members," said Freitag. "This is an exciting time to represent District 6, as this project directly affects our roads and the safety of my residents."
The first-of-its-kind project in Illinois is estimated to cost $170 million to $190 million. The public-private partnership includes the State of Illinois, CenterPoint Properties, Will County and the City of Joliet. IDOT has committed $21 million to improve Houbolt (Hollywood) from US 6 to I-80 and to build a more efficient diverging diamond interchange at I-80 to accommodate the increased traffic demand. CenterPoint will build and operate a new tolled bridge on Houbolt Road over the Des Plaines River and the BNSF Railroad tracks. The City of Joliet will work with IDOT to implement and oversee the improvements. Will County is required to pass a resolution allowing tolls to be issued and collected by CenterPoint.
"This bridge will play a large part in creating a road network that increases the efficiency and, most important, the safety of transporting goods from the Intermodal," said Don Gould (R-Shorewood), chair of the board's Public Works & Transportation Committee.
Construction is slated to begin next year, with the bridge opening in late 2018 or early 2019. About 11,000 vehicles per day are expected to use the bridge initially, including more than 6,600 trucks. By the year 2040, it is anticipated that traffic will nearly triple.