Slammers nine game home stand
7/26/2016, 5:42 p.m.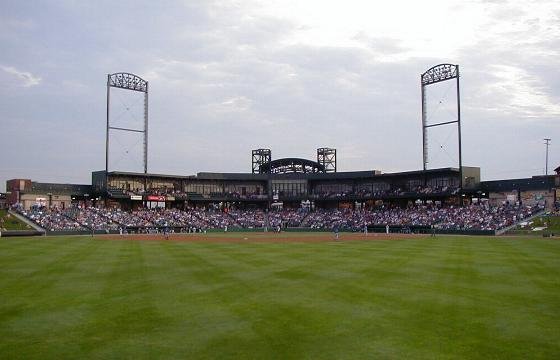 The Joliet Slammers presented by ATI Physical Therapy are
set to began a nine game home stand at Silver Cross Field July 26 through
August 4.
Tuesday, July 26 the home stand for the Slammers took on
the Evansville Otters for a 7:05 p.m. game. It was a $2 Tuesday along with
Medical Professionals night. There was an in game industry-only raffle
available for individuals who showed their medical IDs.
Wednesday was one of two Day Camp Days left in the schedule. The second game
of the series was at 10:05 a.m. All day camps and summer programs were
welcomed out for the mid-morning game.
Thursday, July 28 is Country Thursday at Silver Cross Field. Thirsty
Thursday drink specials presented by Bud Light will be available, including
$2 Bud, Bud Light and Pepsi Products, and $4 Jack Daniel Specials. There
will be ticket giveaways throughout the game, including tickets to see
Rascal Flatts, Toby Keith, and Darius Rucker, and Brad Paisley – all
performing at the Hollywood Casino Amphitheatre this summer.
Christmas in July will be Friday, July 29 as the Slammers take on the River
City Rascals for the second series this home stand. Fans that bring a toy
to donate to the Toy Box Connection will receive a free ticket voucher to
another Slammers home game. Upon entering the stadium, fans will receive
Christmas sugar cookies presented by Milano Bakery. The game will also
feature a post-game firework display presented by Lumina Pyrotechnics.
Saturday, July 30 will be the 2011 Frontier League Championship Reunion.
The game will begin at 6:05 p.m. Members of the 2011 Championship team will
return to the field to help celebrate the Slammer's five-year anniversary
of Frontier League champions. The first 500 fans to enter the stadium (21
and older) will receive a championship souvenir pint glass presented by Bud
Light.
Sunday is Fitness for All, along with a Double Feature Family Sunday. Kids
run the bases following the game presented by Andy's Frozen Custard, and
post-game team autographs will also take place. Kung Fu Panda will be shown
on the video board following the 1:05 p.m. game, presented by Greater
Joliet Area YMCA. Tickets are free with a Slammers game ticket or $1 to the
public.
August 2 kicks off the third series of the home stand against the Normal
CornBelters. Tuesday is another $2 Tuesday. The first 500 fans to enter the
stadium will receive a stadium seat cushion, presented by MK Orthopaedics.
Wednesday, August 3 is Grandparents Day at Silver Cross Field and the game
is set to start at 11:05 a.m.
Country Thursday will be August 4 with a 7: 05 p.m. start time and will
include Thirsty Thursday Drink Specials presented by Bud Light. Specials
include $2 Bud and Bud Light products, $2 Pepsi products and $4 Jack Daniel
Specials. There will be ticket giveaways throughout the game to see country
artists such as Darius Rucker and Brad Paisley at the Hollywood Casino
Amphitheatre.
For tickets or questions on the promotional nights, fans can visit
jolietslammers.com or call the Box Office at (815) 722-2287.