New Valley View smart-phone-friendly website debuts Friday
7/27/2016, midnight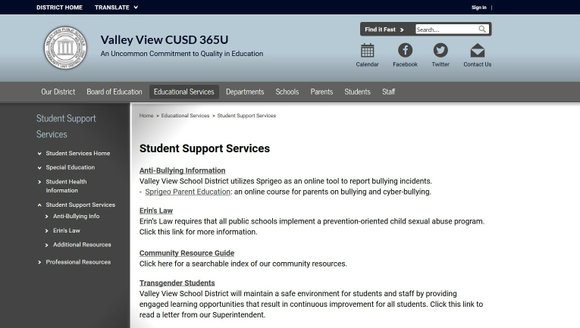 To meet the ever-growing need for advanced digital communications, Valley View School District 365U will introduce a new and improved smart-phone-friendly website later this week.
"This website will help create new and engaging community conversations on our journey to becoming one of the top performing school districts in the state," said VVSD Superintendent Dr. James Mitchem Jr. "Excellent two-way communication with our stakeholders is vital to the support of our students and staff, which is a key pillar in our Strategic Plan."
The debut of the re-designed, user-friendly website marks the beginning of a plan to phase out the current Edline websites for all 22 VVSD schools and replace them with fresh and engaging Schoolwires websites hosted by Blackboard. This transition will simplify current methods of maintaining teacher web pages, while incorporating more engaging and digitally-connected classroom tools.

Valley View Early Childhood Center and VVSD's Secondary Transition Experience Program (S.T.E.P.) will be the first two schools to pilot the new look. All five middle schools will make the change before the end of the year with both high schools and all 12 elementary schools following suit in 2017.
The district website will feature an easy-to-read calendar, VVSD's anonymous bullying reporting tool (Sprigeo) and the always popular "Ask the Superintendent", plus a new Back-To-School section loaded with information on free or reduced cost meals, daily meal menus, student health and immunizations, 2016-17 early release dates, registration, and school supplies, as well as access to our on-line meal payment app My School Bucks, the VVSD on-line fee payment app, e-mail notifications and VVSD social media.

In addition, the re-designed website will include larger and clearer photographs and one-click news stories with an easy-to-search archive containing news and feature stories from recent months.
"Families, staff and community members want a simple way to connect to our district and find the information they are looking for," said VVSD Digital Learning Specialist Nicole Eimer, who spearheaded development of the re-designed website. "We hope this redesign not only gives our schools a fresh and new look, but also showcases our efforts to improve communication district-wide."
The website's URL will remain www.vvsd.org.