Mexican Chicken Cobb Whole Wheat Taco Boats™
7/28/2016, 11:02 a.m.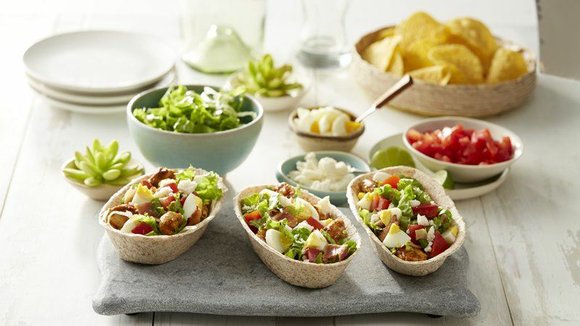 SERVINGS: 8
Ingredients
1/2 avocado, pitted, peeled, finely chopped
1/4 cup ranch dressing
1 tablespoon vegetable oil
1 lb boneless skinless chicken breasts, cut into 1/2-inch strips
1 package (0.85 oz) chicken taco seasoning mix
1/4 cup water
8 Old El Paso™ whole wheat Taco Boats™ tortillas
Toppings
2 cups shredded lettuce
2 chopped hard-cooked eggs
1/2 cup chopped cooked bacon
1/2 cup diced tomato
1/4 cup crumbled queso fresco cheese
Directions
• 1 In medium bowl, mash avocado with fork until smooth. Stir in ranch dressing. Set aside.
• 2 In 10-inch nonstick skillet, heat oil over medium-high heat. Add chicken; cook 7 to 9 minutes, stirring occasionally, until no longer pink in center. Stir in taco seasoning mix and water. Heat to boiling. Reduce heat; simmer uncovered 3 to 4 minutes, stirring frequently, until thickened.
• 3 While chicken is cooking, heat boats as directed on package, and assemble Toppings. Divide chicken mixture among boats; add toppings. Serve with avocado ranch sauce.