Governor Rauner calls for term limits
7/29/2016, midnight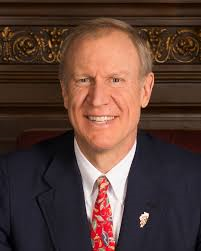 On the heels of a Cook County Judge ruling against putting a popular measure on the ballot that would create independently drawn legislative maps, Governor Bruce Rauner today reiterated his push for good government reforms including a call for the Illinois General Assembly to vote on a term limits constitutional amendment in the fall veto session.
Following his speech in Chicago, Governor Rauner will take his message directly to the people of Illinois on a two-day swing from Rockford to Mt. Vernon.
Remarks as prepared for delivery:
Over the past two years, the people of Illinois, Democrats and Republicans alike, have demanded reform. In 2014 the entrenched politicians holding power in Springfield ignored those demands. They used the Illinois court system to stop proposals for term limits and fair maps that could have led to the reforms the people want.
Term limits and fair maps would give the people of Illinois more control over our broken political system.
But the politicians holding power said no.
Last week they said no again. A lower court threw out this year's Fair Maps proposal that has the support of nearly 600,000 Illinois citizens, support from both Democrats and Republicans.
We cannot let this stand. The only way to overcome entrenched political power is for the people of Illinois to never give up, to keep pushing forward for reform. That's why we're here today.
Term limits is an issue I believe in deeply. And so do the people of Illinois. Term limits is supported by 80% of the people I talk to, and it seems like 80% of the politicians are opposed. Our people want term limits now more than ever, and that's why I'm so committed to continue the fight to make it happen.
You know, I've been Governor of Illinois for a year and a half now. We've gotten some important things done. But I'm as frustrated as everyone else that we haven't been able to tackle the biggest challenges facing our state. These past 18 months have been a humbling experience - I've learned just how entrenched the politicians holding power are. They don't want to change. They are focused on their own power, rather than empowering people. But I have also learned that you want me to keep working to fix our broken political system. That is just what I plan to do.
But I need your help to get it done.
As I've travelled the state, I've learned the most from talking to people, not politicians. I've talked to people in factory break rooms, in coffee shops, in milking barns, in office buildings and at kitchen tables. After you spend enough time in Springfield, it's inspiring to talk with people facing real challenges every day and seeing how hard they work to get ahead. It makes me want to work that much harder for all the people of Illinois.
Our people want action on the challenges we face. People want us to fix the broken system that has put our state deep in the hole. But in Springfield, too many career politicians holding power have been happy to kick the can down the road and do nothing about our biggest problems.