Muhammad Ali, boxing legend, dead at 74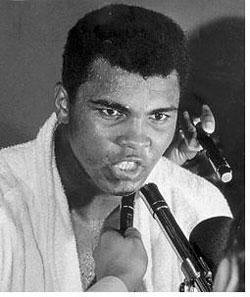 Boxing legend Muhammad Ali has died at the age of 74.
Ali was admitted to a hospital near his home in Phoenix, Arizona on Friday suffering from a respiratory ailment that may have been related to Parkinson's disease which he was diagnosed with in the 1980s.
A family spokesperson announced that the former three-time heavy weight champ died late Friday.
Born Cassius Clay on January 17, 1942, in Louisville, Kentucky, the future champ began his career at the age of 12.
He would eventually win six Golden Gloves titles in his home state, including two national Golden Gloves titles, and would go on to win a gold medal at the 1960 Summer Olympics in Rome, Italy.
At the age of 22 he won his first major heavy weight bout against then-champ Sonny Liston where he also coined his most famous boxing ring line of braggadocio chanting against his opponent that he would "Float like a butterfly, sting like a bee, rumble, young man, rumble."

An unorthodox fighter, Ali displayed a showmanship both inside and outside the ring coining his moves as the "Ali Shuffle" and "rope-a-dope" style of pugilism that earned him the nicknames, "The Louisville Lip", and "The People's Champion."
It was his own self-appointed nickname that perhaps was the one that best reflected the champ's career as Ali took to calling himself "The Greatest" which in a 21-year career with 56 fights and only 5 losses was an accurate self-assessment.
Taking the name Muhammad Ali after his conversion to Islam in 1964, the champ didn't fight for 3 years, from 1967 to 1970, due to his refusal to serve in the army during the Vietnam War.
His last professional fight was in 1981, and three years later he was diagnosed with Parkinson's disease which may have been a result of head trauma he suffered during his career. Ali moved from his home in Berrien Springs, Michigan in 2006 to Phoenix, Arizona.
A New York Times obituary on Friday called Ali, "one of the most recognizable people on the planet" during the past half century. His image and presence were ubiquitous in the culture for most of that time with Ali appearing on the cover of Sports Illustrated 37 times and even squaring off against Superman in a 1978 comic book.