Joliet Township High School recognized for preservation efforts
6/10/2016, 10:51 a.m.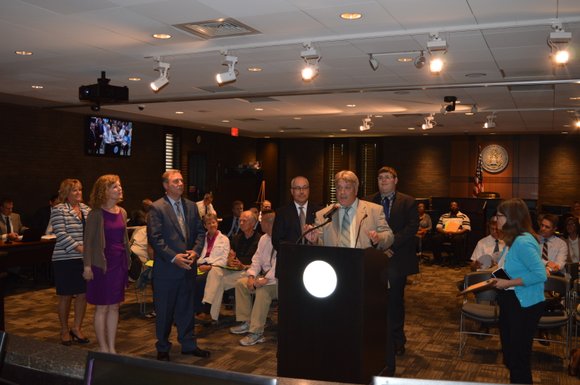 Mayor Bob O'Dekirk and members of the Joliet City Council awarded Joliet Township High School the 11th Annual Preservation Award from the Historic Preservation Commission at the Joliet City Council meeting June 7, 2016. The District was selected for "the outstanding efforts made to maintain the integrity of the Joliet Central High School Campus as exhibited by the Joliet Central Fieldhouse and the Student Center & Galleria Additions."
Joliet Township District 204 is also recognized for the new student center in particular, because "it provides a dramatic front door to the city center campus, successfully blending the old with the new to create an enduring public space for present and future generations."
The Joliet Historic Preservation Commission (JHPC) is an advisory board to the City of Joliet which was established with the Historic Preservation Ordinance of 1990 and subsequent amendments. In short, the JHPC evaluates historic properties and structures for nomination as Local Landmarks or part of Local Historic Districts. Once nominated, the Commission recommends to the Joliet City Council that the properties or structures be designated as a Local Landmark or Local Historic District. The Joliet City Council makes this final determination.
The Commission is made up of 12 volunteer members who are appointed by the Mayor with the approval of the City Council. Of these members, nine are voting members who must reside in the City of Joliet. The remaining three are non-voting members who can reside outside of City limits. The Commission liaison to the City of Joliet is the Commission Secretary, a City Planner.
Every May in the United States is designated as "Preservation Month" by the National Trust. This year's theme, "This Place Matters" promotes this month to "recognize preservation efforts throughout the country and to promote awareness of the historic preservation."
The JHPC wants to recognize Joliet Township District 204 for their wishes to expand the Joliet Central High School Campus and to preserve the historic environment while providing for the future students' needs.
"On behalf of the Joliet City Council, I extend our most sincere appreciation to Joliet Township District 204 for their commitment shown to historic prevention through the student center and galleria and the athletic field house additions," said Mayor of the City of Joliet, Robert O'Dekirk.