Rauner and Foster release statements on Orlando shooting
6/13/2016, 11:49 a.m. | Updated on 6/13/2016, 11:58 a.m.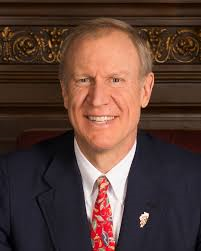 Governor Bruce Rauner's statement on the Orlando mass shooting:
"It was heartbreaking to learn about the tragic massacre in Orlando, Florida. To target a community in celebration is deplorable. The State of Illinois stands with those in the State of Florida, and in honor of the victims, I am ordering all flags to be lowered to half-staff immediately. Please join me and Diana in praying for all those affected by this senseless tragedy" said Rauner.
The Governor also ordered "all persons or entities covered by the Illinois Flag Display Act are ordered to fly their United States and Illinois State Flags at half-staff until sunset on Thursday, June 16, 2016."
*
Foster, who represents Illinois 11th congressional district released this statement:
"Early yesterday morning, the LGBTQ community was targeted in a horrific attack at a popular night club.
This attack marks the deadliest shooting in U.S. history. It occurred during a month designated to honor the rights of LGBTQ individuals. I send my deepest condolences to the victims, their families, and the city of Orlando.
As the only Ph.D. scientist in Congress, I always look at the facts.
Gun violence in this country is a public health crisis. Whether an isolated incident or a mass shooting in a public space, too many Americans live with the effects of gun violence.
It is time for Congress to protect Americans from this violence with commonsense gun control and reform."