Retiring priest's legacy leaves lasting impact on the community
Madhu Mayer | 6/15/2016, 3:57 p.m.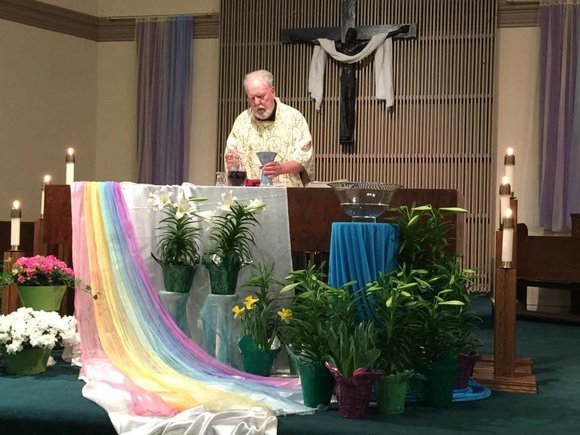 This Sunday, parishioners of Sacred Heart Church will not be the only ones who will say goodbye to a man of the cloth who practices what he preaches.
The community of Joliet and surrounding towns will also bid farewell to the Rev. Raymond Lescher, 80, pastor of the parish at 337 S. Ottawa St. for 18 years and an outspoken activist for social equality and justice.
After more than three decades in the priesthood, Lescher will hang up his collar as he conducts his final Mass at 10 a.m. Sunday, June 19. A parish open house will be held from 10 a.m. to 3 p.m. Saturday, June 18. While he plans to move to a town near Kankakee upon retirement, Lescher has the satisfaction of knowing he is leaving Sacred Heart and the Joliet community with sweeping social and economic changes.
"I am moving to Hopkins Park, which is east of Kankakee," he shared. "It is a mission church and I plan to live in an empty apartment over the garage. I will live there and offer Mass."
The tranquil life that awaits him is a path he never anticipated after being away from active ministry for 23 years. Ordained in 1963, Lescher, who studied journalism at the University of Notre Dame, did parish work and ministered to migrant workers at two African-American parishes in Kankakee. Eventually, he would fall in love with Anne Green, a mother of 10 who ran a day-care nursery. This forced him to resign from the priesthood in 1975 and he and Anne moved to Minnesota, where they raised foster kids and her children and grandchildren.
But following 21 years of marriage, Anne died of cancer in 1995 and nearly two years later he would reenter the ministry. With blessings from the Vatican and Bishop Joseph Imesch of the Diocese of Joliet, he became a practicing priest again.
"I came to Sacred Heart and I fought for justice," he said. Lescher said of the 180 or so parishioners, 60 percent are African-American, 30 percent are white and the rest Hispanic.
"We are the most Catholic church in the diocese, meaning we welcome blacks, whites, the poor, rich, gay or straight," he said.
Civil Rights activist and retired Judge Raymond Bolden of Joliet, a Sacred Heart member off and on for 60 years, said from the moment he came to Joliet, Lescher has always preached "the gospel of loving one another, of serving the poor, the disabled and the lonely, and those in need."
"He is not a phony, as he is a true believer in living God's word and he shows it everyday," said Bolden, who headed the Joliet branch of the NAACP for 20 years in the 1960s. "He goes with the business of helping people."
For example, Bolden said Lescher always makes sure that services are available to the poor, including Alcoholics Anonymous, Gamblers Anonymous and Narcotics Anonymous support groups; marriage and family counseling; help for sexual abuse victims; and Family Table, which serves a free, hot midday meal every Tuesday. When Florida teen Trayvon Martin was killed, Bolden said Lescher even donned a black hoodie and marched with others in protest against the "stand your ground" law.