Public access TV still getting the message out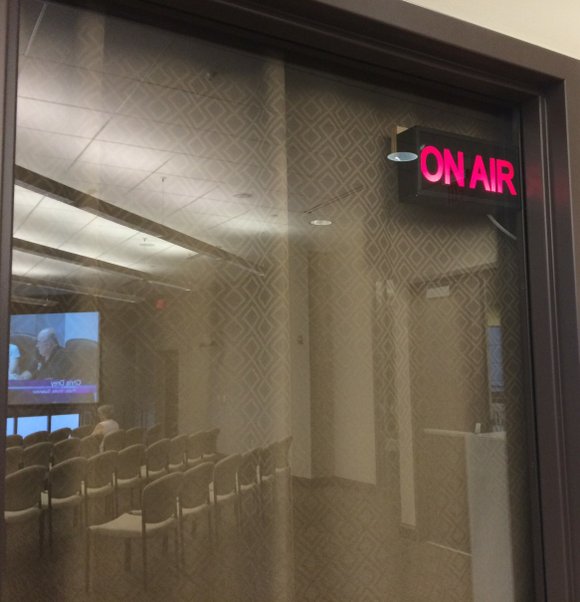 Even in the era of YouTube with cord-cutting millennials ditching television in favor of online streaming, it seems that cable public access television still has a place.
And for residents who skip past local broadcasts of municipal board meetings or coverage of the home coming parade on their way to ESPN or CNN, they may be missing the easiest opportunity they have to keep tabs on what their local elected officials are doing.
"It's one thing to look at [meeting] minutes it's an entirely different thing to be able to view and see what's happening," said Romeoville Mayor John Noak who said that the cable access channel the village maintains, VOR-TV, is just one way to provide better access and transparency.
Romeoville invests a significant amount in funding and effort in to its local broadcast which includes an onsite studio at village hall, and production values that include opening graphics and theme music. The village set aside $154,000 in its 2016-17 budget for the channel's operation which includes a full-time community media coordinator.
Funding comes from the village's franchise cable franchise fees said Noak.
It's all toward the goal of being "able to create that access", he said, "that way you've got a greater level of transparency for your residents."
That seeming lack of access is what prompted Will County Board Member Jim Moustis to lament the county's lack of its own cable channel and the means of reaching residents directly.
"I think the public should have access, the county should have access …just as the municipalities have access," said Moustis who said that a public access channel devoted to Will County could "help get out information about county government."
Currently, he said, the county can send recorded content to local municipalities for broadcast but said that the practice is "hit and miss" as to whether it makes it to air.
Tony Signorella, government affairs manager for Comcast said that the county could tap the PEG (Public Education and Government) access fee that could be added to resident's bills to pay for infrastructure, equipment and possible personnel costs to get the county set up.
Dick Schuster, president of the Joliet Community Television (JCTV) channel 6 board of directors, and a 32-year volunteer at the station, said that Will County already has its own dedicated channel for customers of AT&T U-Verse cable but would need to work out a deal with Comcast to get a channel of its own on its system.
He said that the county channel could be up and running without a dedicated production facility by utilizing Joliet's station located at city hall.
"They really don't need a studio to get started," said Schuster, "We told them 'we've got the broadcast equipment here for you to do it."
Schuster said that in the past he's helped Will County Executive Larry Walsh tape pieces for broadcast and would be willing to help get the channel on the air.
"We'll help them get up and running," said Schuster.
In the interim, without its own cable access channel, at least on Comcast, Moustis said that the board relies on posting video of government meetings to its YouTube site.
In that regard, the county is on par with what many municipalities are doing to augment access by posting meetings to their own online channels, adding video to be viewed right on the municipal website or in Shorewood's case to watch via a live stream.
The village was one of the first in Will County to add a live streaming on the internet component to its broadcast in 2012 said Mayor Rick Chapman.
The village's cable access channel, SCCTV Channel 6, and live stream, he said, adds another avenue for the village "to be as transparent as possible." Chapman said that the village's programming will appeal to a new generation accustomed to watching video online.
Chapman said that the cable access and online options offer more chances for residents to tune in to everything from village board meetings, public service announcements, state of the village addresses to live remotes that cover everything from parades, to festivals to its annual fishing derby.
Both Chapman and Noak also note that the broadcasts help with access for residents who can't make it to meetings or other village events either due to work commitments or seniors with limited mobility.
Noak said that Romeoville continues to look for new ways to reach residents and with a newly approved franchise agreement with Metronet—a fiber optic broadband provider—the village could bring live streaming sometime in the future.
brock@thetimesweekly.com
On Twitter @BrockAStein