Bruschetta-Style Tortellini Salad
6/21/2016, 6:25 p.m.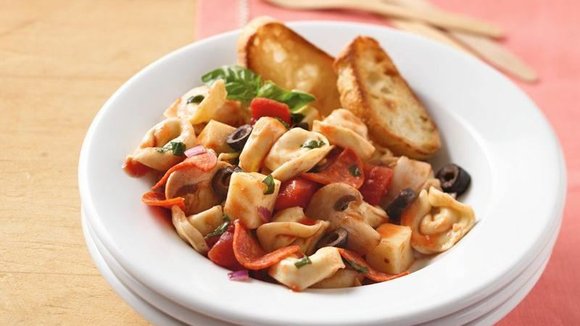 SERVINGS: 10
Ingredients
Bruschetta Dressing
1 can (14.5 oz) diced tomatoes, drained, juice reserved
¼ cup chopped fresh basil leaves
2 tablespoons extra-virgin olive oil
1 clove garlic, finely chopped
Salad
1 package (20 oz) refrigerated cheese-filled tortellini
2 cups sliced fresh mushrooms (about 5 oz)
1 cup cubed mozzarella cheese
½ cup chopped red onion
1 can (2 1/4 oz) sliced ripe olives, drained
½ package (3.5-oz size) sliced pepperoni, cut in half
Directions
1 In medium bowl, mix dressing ingredients.
2 Cook and drain tortellini as directed on package. Rinse with cold water to cool; drain. In large bowl, toss tortellini with dressing, mushrooms, cheese, onion, olives and pepperoni; stir in reserved tomato juice.
3 Cover and refrigerate 1 to 4 hours before serving.