Chicken-Gorgonzola Pasta Salad
6/22/2016, 6:28 a.m.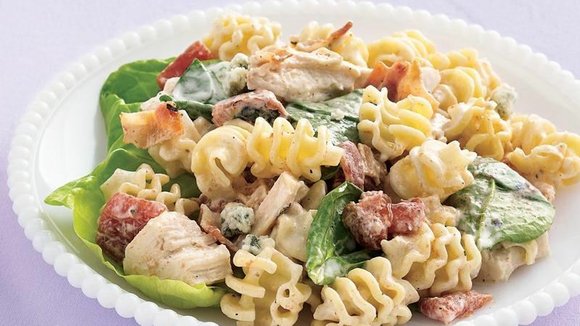 SERVINGS: 12
Ingredients
7 cups uncooked radiatore (nuggets) pasta (about 19 oz)
4 1/2 cups cubed cooked chicken breast (about 20 oz)
1 package (2.1 oz) refrigerated precooked bacon (about 15 slices), cut into small pieces
1 can (14.5 oz) fire roasted diced tomatoes, drained
2 cups lightly packed fresh baby spinach leaves
1 jar (16 oz) refrigerated ranch dressing
1 cup crumbled Gorgonzola cheese (4 oz)
Bibb lettuce, if desired
Directions
• 1 Cook and drain pasta as directed on package.
• 2 In large bowl, mix cooked pasta, chicken, bacon, tomatoes and spinach. Pour dressing over pasta mixture; toss until coated. Fold in cheese. Cover and refrigerate until serving. To serve, line bowl with lettuce and spoon in salad.