Will County residents' electronics recycling options growing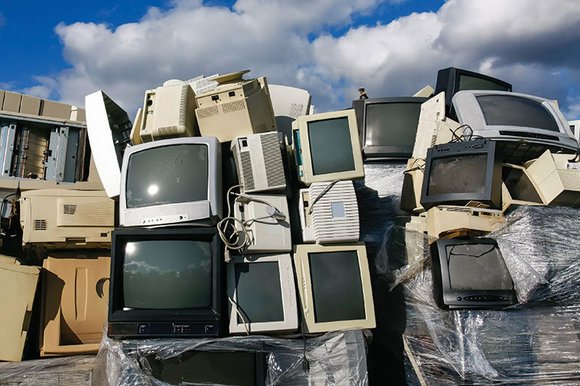 Will County residents who have an old T.V. taking up space in their garage will have more options for where to get it recycled this summer.
Following the approval of an agreement with two Will County municipalities, residents will now have three drop off locations to take their old electronics.
That's a far cry from the 13 drop off sites the county once maintained at its peak in 2015 and one less than the four it had when they opened in 2007.
Last year, the county received word that the recycler it used for electronics, Vintage Tech/Kuusakowski in Plainfield would be cancelling its contracts with the county because the market for the material was shrinking.
"The recyclers are very dependent on getting the manufacturing funding," explained Marta Keane, a recycling specialist for Will County.
Keane said that manufactures pay recyclers a per pound rate to find ways to recycle or reuse material after its collected.
Passed in 2012, the Electronic Products Reycling and Reuse Act, made it illegal for Illinois residents to simply toss their old electronics in to the trash. The law cited the nearly 3 million tons of electronic waste that becomes obsolete each year and the relatively small amount (14% in 2007) that gets recycled. The law also cites the harmful environmental impact of electronics in landfills that can leach lead, mercury, cadmium, hexavalent chromium into the soil.
County residents were happy to tote their electronics off to one of the 13 permanent recycling sites which took in just under 4.5 million pounds of e-waste in 2015 said Keane. Three of its busiest drop off locations in Mokena, Troy Township and Bolingbrook took in over 500,000 pounds of e-waste per location each year she said.
Keane said that municipalities "didn't want to close, most of them really like being able to offer this service" "but they just couldn't handle this additional work."
Keane said that it was Lockport that first volunteered to re-open a permanent drop off site in May to begin rebuilding the network available to county residents.
She said that Lockport deserves credit for offering to staff the site at its public works building, 17112 South Prime Blvd.
"They were willing to try this with us knowing that they would be the only ones standing," she said.
During its first month in operation, the Lockport site collected 60,000 pounds. The city and the county both provide staffing for the location.
Following approval by the Will County Board last week, the Lockport location, which is open on Tuesdays and Fridays each week, will be joined by what Keane called "hybrid" sites in Peotone and New Lenox.
"It's a brand new approach and a brand new way of doing it," she said.
The new locations will include regular date and times like a permanent drop off but with limited hours a couple of times per month like some of the special recycling events held throughout the year.
The county has contracted with a third-party vendor that will set up at the sites, check IDs to ensure Will County residency, and will cart the material off to be loaded and shipped.