Creamy Lemon Orzo with Peas and Ham
6/23/2016, 6:31 a.m.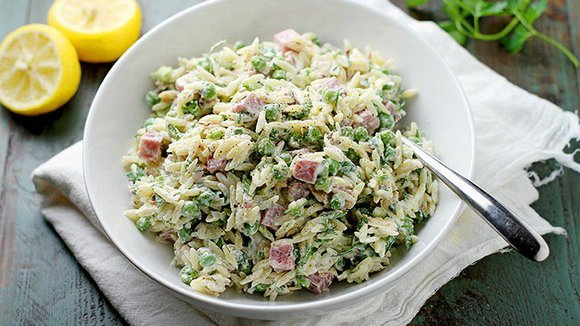 SERVINGS: 6
Ingredients
1 ¼ cups uncooked orzo or rosamarina pasta
4 small lemons
1 ½ cups cubed cooked ham
1 cup Greek plain yogurt (from 2-lb container)
2 tablespoons Dijon mustard
½ teaspoon salt
½ teaspoon pepper
1 shallot, finely chopped
1 box (9 oz) frozen sweet peas
1 cup chopped fresh mixed herbs (parsley, chives, dill weed, mint leaves, etc.)
½ cup sliced almonds, toasted
2 green onions, white and green parts thinly sliced
Directions
1 Cook and drain pasta as directed on package; set aside to cool slightly.
2 Meanwhile, into large bowl, grate peel of 1 lemon. Into measuring cup, squeeze enough lemon juice from lemons to measure 1/2 cup. Add 1/4 cup of the lemon juice to bowl of grated peel. Add pasta, and stir.
3 Stir in ham, yogurt, mustard, salt, pepper and shallot until well combined. Cover and refrigerate at least 2 hours but no longer than 24 hours.
4 Meanwhile, cook and drain frozen peas as directed on box. Cool; add to chilled pasta mixture along with herbs, toasted almonds and sliced green onions. Stir until well combined. Add enough of remaining 1/4 cup lemon juice to desired taste, as well as more salt and pepper, if needed. Cover and refrigerate leftovers.