Tuna Pasta Salad
6/23/2016, 12:39 p.m.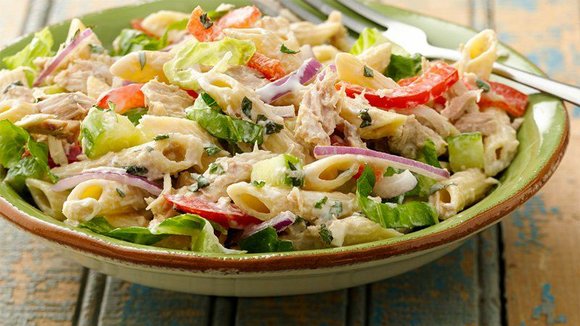 SERVING: 8
Ingredients
10 oz uncooked multigrain penne pasta (about 3 cups)
1 cup diced English (seedless) cucumber
1/4 cup chopped fresh mint leaves
1/2 cup plain low-fat yogurt
1/4 cup low-fat mayonnaise
1/2 teaspoon salt
1 cup thinly sliced red onion, rinsed with cold water and drained
1 cup thinly sliced red bell pepper
2 cans (4.5 oz each) oil-packed tuna, drained
2 cups shredded romaine lettuce
Directions
• 1 Cook pasta as directed on package, omitting salt and oil. Drain; rinse with cold water. Meanwhile, in large bowl, beat cucumber, mint, yogurt, mayonnaise and salt with whisk.
• 2 Add pasta, and stir until well coated with dressing. Stir in all remaining ingredients except lettuce. Refrigerate 30 minutes.
• 3 Stir in lettuce, and serve.