Grilled Chicken Pasta Salad with Caramelized Onion, Broccoli and Mango
6/24/2016, 6:34 a.m.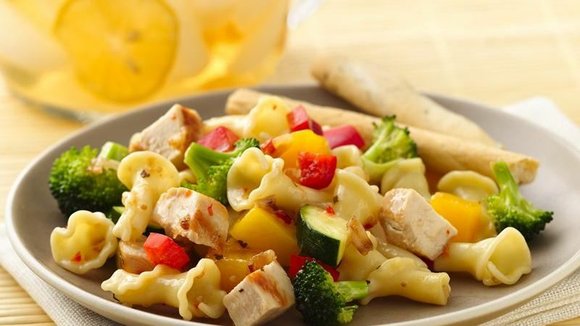 SERVINGS: 8
Ingredients
1 package (8oz) uncooked campanelle or rotini pasta
3 boneless skinless chicken breasts (1 lb)
1 tablespoon olive oil
1 medium onion, finely chopped (3/4 cup)
3 cups fresh broccoli florets
2 ripe mangoes, seed removed, peeled, and cut up
1 red bell pepper, chopped
1 medium zucchini, quartered lengthwise, then cut crosswise into slices (1 cup)
1 bottle (8 oz) Italian dressing
½ teaspoon salt
Directions
1 Heat gas or charcoal grill. Cook pasta as directed on package; drain. Rinse with cold water to cool; drain well.
2 Meanwhile, place chicken on grill over medium heat. Cover grill; cook 15 to 20 minutes, turning once or twice until juice of chicken is clear when center of thickest part is cut (170°F). Cool slightly. Cut into 3/4-inch cubes.
3 In 8-inch nonstick skillet, heat oil over medium-high heat. Stir in onion; cook uncovered 5 minutes, stirring occasionally.
4 Reduce heat to medium-low. Cook 10 to 15 minutes longer, stirring every 5 minutes, until onion is deep golden brown (onion will shrink during cooking). Cool slightly.
5 In large bowl, combine pasta, chicken, caramelized onion and remaining ingredients; toss gently to coat. Cover; refrigerate 30 minutes to blend flavors.