Secretary Clinton gives inspiring speech at PUSH Luncheon Monday
6/29/2016, 6:17 p.m.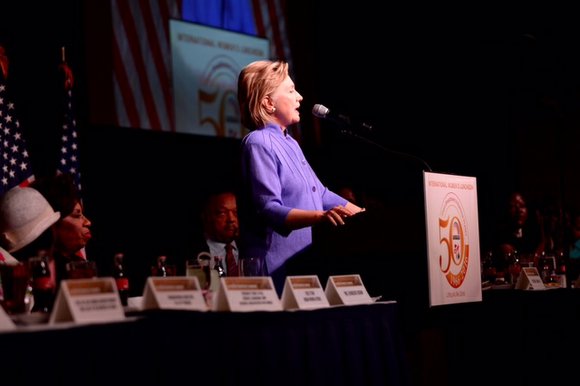 thetimesweekly.com
Gun violence, income-inequality, crumbling
schools, "We need world changing women more than ever," Secretary Hillary
Clinton, the presumptive Democratic Party presidential nominee, told more
than 1,000 people who attended the "Lifting As We Climb" Women's
Luncheon of the Rainbow PUSH Coalition's 45th annual international
convention – A More Perfect Union: From Freedom to Voting Rights to
Economic Justice.
"I don't know about you but I think saving our children and our people
from gun violence is a civil rights issue right now," Secretary Clinton
said, adding "We have neglected too many of our people, particularly our
children, for too long."
Security and media were heavy in the packed Grand Ballroom of McCormick
Place for Secretary Clinton's nearly 30-minute speech. The luncheon was
chaired by Jacqueline L. Jackson, wife of Rev. Jesse L. Jackson, Sr.,
founder and president of Rainbow PUSH.
Rev. Jackson, who has known Secretary Clinton for 40 years, introduced her
as someone the country can trust.
"We trust Hillary Clinton when she fights for a One Big Tent America; one
that includes our immigrant community, not one that fuels hot rhetoric of
mass deportation.
"We trust Hillary Clinton to tear down walls of division and build new
bridges of hope and unity. We trust Hillary Clinton to keep America and the
world safe from terrorism.
"We trust Hillary Clinton when she fights to restrict easy access to guns
and works to stop the violence. We all grieved over the terrorist killing
of 49 people in Orlando. There are urban killing fields all across America.
In Chicago, gun violence has resulted in 66 people killed last month, over
300 people this year.
"We trust Hillary Clinton to convene a national summit of urban
reconstruction, investment and jobs and to address this national state of
emergency. We must take the initiative to end these killing fields and the
poverty that does so much to create them.
"Trust matters. Justice matters. Hillary, you've been through the fire.
That's what separates metal from alloy."
Secretary Clinton was the keynote speaker, but she shared the dais with a
powerful lineup of accomplished women, including U.S. Representatives
Maxine Waters of California, Jan Schakowsky and Robin Kelly, both of
Illinois, Cook County Board President Toni Preckwinkle and Melissa Mays,
the Flint, Michigan clean water activist.
Also on the dais was a living legend, Academy Award-nominated, Emmy and
Tony Award winning film, television and stage actress Cicely Tyson. Ms.
Tyson received the first Reverend and Mrs. Jesse L. Jackson Sr. Legend Award
Ms. Tyson said the first award she had ever received for her acting was
from PUSH – 50 years ago. "I've come full circle," she said, thanking Mrs.
Jackson who, she said, is "always in my heart."