Kam's Kapsules: Weekly Previews That Make Choosing a Film Fun
For movies opening March 11, 2016

Kam Williams | 3/8/2016, 11:32 p.m.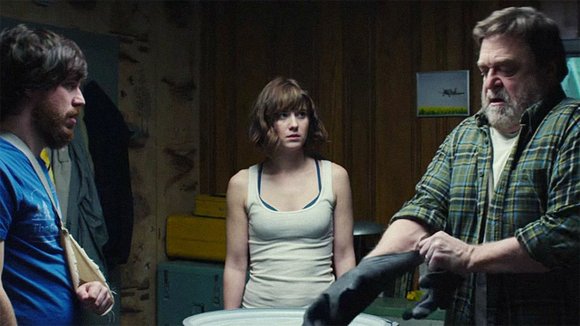 BIG BUDGET FILMS
10 Cloverfield Lane (PG-13 for frightening sequences, mature themes, violence and brief profanity) Suspense thriller revolving around an accident victim (Mary Elizabeth Winstead) who comes out of a coma to find herself imprisoned in a subterranean bunker by a survivalist (John Goodman) claiming that the Earth's surface has been rendered uninhabitable by a chemical catastrophe. With John Gallagher, Jr., Mat Vairo, Cindy Hogan and Jamie Clay.
The Brothers Grimsby (R for violence, profanity, coarse sexuality, drug use, crude humor and graphic nudity) Action comedy about a British spy (Mark Strong) forced to rely on his feeble-minded, long-lost brother (Sacha Baron Cohen) to foil a global terror attack. Featuring Rebel Wilson, Penelope Cruz, Gabby Sidibe and Isla Fisher.
The Perfect Match (R for nudity, sexuality and pervasive profanity) Romantic comedy revolving around a confirmed bachelor (Terrence J) who finally meets his match when he takes a dare to date the same woman (Cassie Ventura) for an entire month. Supporting cast includes Paula Patton, Kali Hawk, Brandy Norwood and Lauren London.
The Young Messiah (PG-13 for violence and mature themes) Adaptation of Christ the Lord: Out of Egypt, Anne Rice's best seller chronicling the year in the life of 7 year-old Jesus (Adam Greaves-Neal) when the Christ child was informed of His divine destiny by Mary (Sara Lazzaro) and Joseph (Vincent Walsh). With Sean Bean, Christian McKay and Jonathan Bailey as King Herod.
INDEPENDENT & FOREIGN FILMS
About Scout (Unrated) Unlikely-buddies drama about a 15 year-old Goth girl (India Enninga) who embarks with a suicidal stranger (James Frecheville) on a road trip across Texas in search of her missing little sister (Onata Aprile). Featuring Danny Glover, Ellen Burstyn, Jane Seymour and Nikki Reed.
The Automatic Hate (Unrated) Tale of forbidden love about long-lost cousins (Joseph Cross and Adelaide Clemens) who become attracted to each other while digging up the deep secret that tore apart their families ages ago. With Ricky Jay, Deborah Ann Woll and Richard Schiff.
Backgammon (Unrated) Adaptation of the R.B. Russell novella "Bloody Baudelaire," a whodunit about two couples invited by a mysterious host (Christian Alexander) to spend the weekend in an isolated mansion. Co-starring Noah Silver, Alex Beh, Brittany Allen and Olivia Crocicchia.
Barney Thomson (Unrated) Robert Carlyle plays the title character in this dark comedy, set Glascow, about a barber-turned-serial killer's attempt to elude apprehension by the detective (Ray Winstone) heading the murder investigation. Support cast includes Emma Thompson, James Cosmo and Ashley Jensen.
Boom Bust Boom (Unrated) Cautionary documentary examining the stock market collapse of 2008 while issuing a clarion call to reform an economic system marked by alternating cycles of record highs and devastating crashes. Featuring commentary by Terry Jones, John Cusack and Professor Paul Krugman.
Creative Control (R for profanity, drug use, nudity and graphic sexuality) Sci-fi romance drama, set in Brooklyn, about a jaded tech exec (Benjamin Dickinson) who uses a state-of-the-art invention to sleep with his BFF's (Dan Gill) unsuspecting girlfriend (Alexia Rasmussen). With Nora Zehetner, Reggie Watts and Gavin McInnes.