Rialto Theatre needs big decision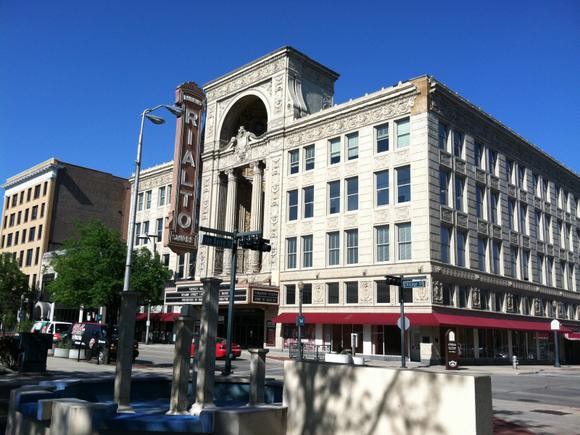 Trust. It is something that is often taken for granted. Most of us have trust in the people placed in responsible positions. We often place our trust in people who operate our public institutions and rely on them to do the public business in a responsible and cost effective way. The dictionary defines trust as "assured reliance on the character, ability, strength or truth of someone or something." We rely on those entrusted with responsibility to do their job to the best of their ability.
The Rialto Square Theatre is a public institution often called the Jewel of Joliet. The Rialto's financial struggles in recent years have become well known.
About a month ago this column outlined Randy Green's tenure as the Rialto's General Manager. He has been GM since 2002. During that period of time the Rialto has not increased its revenue enough to sustain the costs associated with its operations. The Rialto's annual audience of approximately 60,000 people pales when compared to several other venues of a similar size in the Chicagoland area. The Paramount Theatre in Aurora, for example, entertains an annual audience of 250,000 people. The Paramount venue is smaller than the Rialto.
Why the difference in audience size? A few years ago, 2011 to be precise, the Paramount embarked on a strategy of in-house productions of Broadway musicals. The strategy has been paying off over the last five years. The Paramount's annual budget exceeds $9 million. What does Green think about that? He was interviewed for an article about Aurora's Paramount Theatre in Crain's Chicago Business published February 9, 2013. He said it wouldn't work in Joliet. That was Green's answer. Joliet wouldn't respond to success, apparently. Before and since that article appeared the Rialto has hosted the same type of one-night stand venues that seldom "pack the house" and then only occur about 50 times a year.

Green's record at previous theaters hasn't been stellar either. Green was unsuccessful as manager of Ballet Chicago when he left there in 1992. It was unclear whether he left on his own or was asked to depart. Even though Green's three-year contract with the Rialto was effective in 2011, he was hired as GM in 2002. Prior to that time, he had no contract. The contract agreed to in 2011 added more financial responsibility for the Rialto operations he was responsible for. That contract was extended for three more years beginning in 2014 with a salary increase to $142,000 annually. There were no performance requirements associated with that agreement. The contract will expire at the end of this year. There is a buyout provision in the extension that provides for six months of salary prior to termination this year.
The Rialto is considered essential to the City of Joliet's revival of the downtown City Center. The financial survival of the Rialto is in question. The Rialto has delayed passage of a budget for the last fiscal year and has none proposed for the coming fiscal year. That seems to indicate severe fiscal issues regarding revenues and expenses. Unsubstantiated rumors indicate essential expense payments are being delayed or missed being paid altogether. That would seem to indicate the future survival of the Rialto as an ongoing enterprise is in jeopardy.
Green's job responsibilities seem to take a backseat to other priorities. For instance, the most recent board meeting had to be rescheduled because he instead took some vacation time. Board meetings are scheduled many months in advance. At least seven other people, all volunteers had to rearrange their priorities to accommodate Green. Early departures on workdays and no show Fridays have also been noted. That attitude should not be acceptable.
Renewing Randall Green's contract, which expires at the end of this year, is not an option. He has proved to be ineffective. The Will County Metropolitan Exposition and Auditorium Authority board should ask for Green's resignation now or exercise the termination contract clause in the Employment Agreement.
One last thing…four members of the WCMEAA board are up for renewal this year. Past Chairman and longest serving board member Jim Smith, Vicki Murphy, and Cynthia Tyler are appointed by the Governor, with advice and consent of the Illinois Senate. Given the mess in Springfield it seems a sure bet those appointments aren't on their radar yet. David Thornton's term also expires this year. The Mayor appoints that position.Board Chairman Dan Vera and member Mary Beth Gannon are first-timer's on the board who were appointed by former Joliet Mayor Tom Giarrante in 2014. Mary Babich was also appointed by Giarrante but has been on the board since 2001. The WCMEAA board has some big decisions coming up. We trust they are up to the task. The Rialto's viability is in their hands. Stay tuned…
Contact Wayne at wayneswords@ thetimesweekly.com
See a copy of Randy Green's contract below
Document